Bernardo Bertolucci reflects on his new movie and an illustrious career that saw him court controversy and gain access to the Forbidden City. Mariella Radaelli reports.
Bernardo Bertolucci, the first foreign director to film inside the Forbidden City, tackles the loneliness of youth and its obscure necessity in his new film Me and You, which was released in Italy in October.
He looked relaxed and happy to be back after a nine-year hiatus from filmmaking.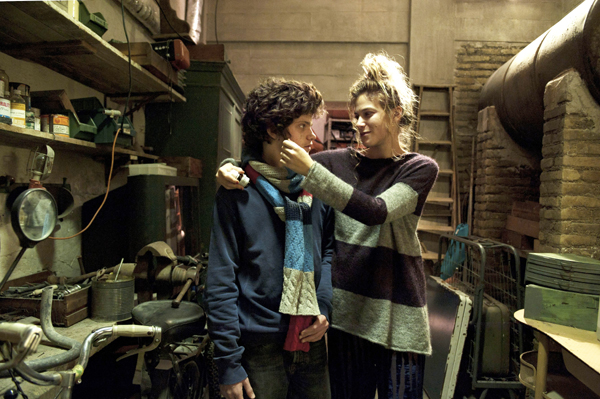 A scene from Bernardo Bertolucci's latest film Me and You: Lorenzo and his half-sister Olivia in the basement of their family home. Provided to China Daily
"I need to go on now. It's like therapy," he says.
Radicalism and rebellion have always been a major part of Bertolucci's art house cinema style.
Even today the legendary Italian film director (who was born in 1941 on a farm near Parma) maintains his alluring, radical style, and psychoanalysis continues to be a significant feature of his cinematography.
"It's like having an additional lens on my camera," says the director.
Next year will mark the 25th anniversary of The Last Emperor, Bertolucci's stunning epic set in China, which won nine Oscars.
China was a source of "infinite emotion, and a superlative enriching experience", he says.
"At the beginning I said to myself, 'Oh hell, I don't know the Chinese. How does a Chinese person turn on a television?' I had to throw myself into it, follow my intuition."
Was it a fascination with exoticism?
"Yes, exactly that, very much. I am really enchanted by differences. However slowly, as you get to know someone from a different culture, you realize that they are not that different. They are just like you. We all share the same dreams," he says.
"Inside the Forbidden City, I could see mysterious courtyards and massive closed doors that you could tell had been closed for who knows how long. I made friends with one of the guards. I told him, 'Come on, take me there tomorrow, let me see that.'
"The man brought enormous keys: tlot, tlot, tlot went the sound of these keys going into the rusty locks that opened the doors of abandoned pavilions. You can't imagine how fascinating they were. What strong emotion. My experience in China is always connected with this image of me looking for keys to open doors."