The new Chinese leadership will continue to attach great importance to, and effectively promote, the China-Russia relationship, said Premier Wen Jiabao on Thursday, wrapping up a visit to Russia.
The trip, which also took him to Kyrgyzstan, was Wen's last overseas visit as premier.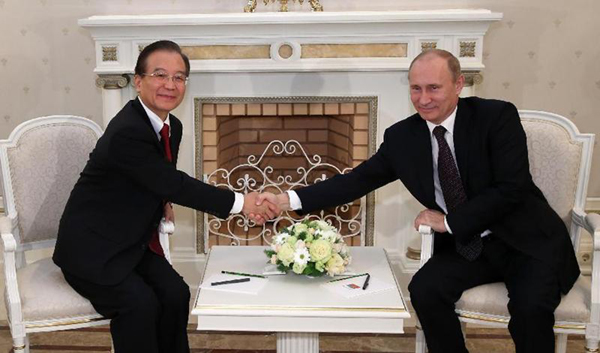 Chinese Premier Wen Jiabao (L) meets with Russian President Vladimir Putin in Sochi, Russia, Dec 6, 2012. [Photo/Xinhua]
Wen made the remarks during a long, candid talk with Russian President Vladimir Putin in Sochi, a Russian city on the Black Sea coast.
Further promoting the Sino-Russian relationship has strategic and long-term significance, which conforms to the interests of the two countries and their people, Wen said.
The two sides should continue to enhance mutual trust and mutually beneficial cooperation, push for stronger roles in international organizations and promote multipolarity, Wen said.
For his part, Putin said the comprehensive strategic cooperative partnership between Russia and China has reached an unprecedented height.
Putin said he cherished the working relationship and sincere friendship with China's leaders, calling on the two sides to maintain close high-level exchanges and push bilateral ties to a higher level.
Wen attended the 17th regular meeting between Chinese and Russian prime ministers earlier on Thursday. The two sides reached a broad consensus and signed a number of cooperation agreements between governments and enterprises.
It was the tenth and final time that Wen had represented China at the meeting, which, he said, served "as the link between past and future".
"The last overseas visit of my political life is in Russia, which I feel is of great significance and cherish very much," said Wen.
The high-level political mutual trust and profound friendship built up through close and sincere communication between the two countries' leaders has provided strong momentum for the development of the Sino-Russian relationship, Wen said.
In April 1996, former Chinese president Jiang Zemin and former Russian president Boris Yeltsin agreed to establish a mechanism of regular meetings between the two countries' heads of government.
Since 2003, Wen has been co-hosting the prime ministers' meetings with his Russian counterparts.
"The meeting this time has carried forward the good tradition of Sino-Russian cooperation," said Xing Guangcheng, deputy director of the Research Center for Chinese Borderland History and Geography of the Chinese Academy of Social Sciences.
Pushing forward the bilateral relationship meets the needs of the fundamental interests of the two countries, said Xing.
As emerging economies, their own development requires the two neighbors to seek more bilateral cooperation, especially in economic, scientific and trade sectors, Xing said.
Feng Yujun, an expert on Russian studies at the China Institutes of Contemporary International Relations, said, "China and Russia have many effective communication mechanisms, such as the regular meetings of prime ministers and the sub-committees in various areas under this framework, which provides a special guarantee for smooth cooperation."
On Wednesday, Vice-Premier Wang Qishan and Russian Deputy Prime Minister Arkady Dvorkovich co-chaired the 9th China-Russia energy negotiators' meeting.
The two sides inked four agreements on energy cooperation, including cooperation in coal and electricity supply.
Contact the writers at qinjize@chinadaily.com.cn and
chengguangjin@chinadaily.com.cn