Mo Yan, the winner of the 2012 Nobel Prize for Literature, was in a humorous frame of mind as he covered a number of topics during a news conference in Stockholm on Thursday.
Literature, sudden fame, Chinese writers and Swedish friends, were some of the topics Mo addressed.
"The award is a personal thing," Mo, who is in the Swedish capital to collect his prize on Monday, said. The writer reflected on how fame now makes him a target for young female autograph hunters.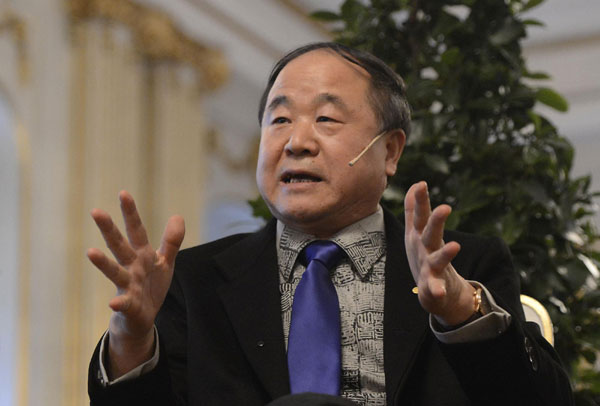 Mo Yan, the winner of the 2012 Nobel Prize for Literature, hosts a news conference in Stockholm on Thursday. [Photo/Xinhua] 
His life changed dramatically after he won the award. Prior to that, no one recognized him or even gave him a second look as he cycled the streets of Beijing.
Now there are young girls chasing him to take pictures and ask for autographs. "I realize now I am a celebrity."
"The award goes to a writer, not a country, but I believe my award will arouse interest in literature in China, " Mo said.
Constant media attention can be a huge drawback, he said.
Journalists camp outside his house, he said, and his wife has to invite them in for dumplings.
"My father always said that Mo Yan is the son of a farmer. That will not change just by winning the Noble Prize. I am amused that people chase me for my signature. I am a humble person," he said.
His works, he said, do not have a single theme and change is important in his writing as it is for all writers.
"Seeking change is the pursuit of artistic creation, and it is also about thoughts generated from a changing world. There is no writer who does not change."
The key to producing a great piece of work, he said, is whether a writer can go beyond class and politics, and be compassionate, even with people who level criticism at you behind your back.
" It is a lie to say a writer can produce great work under complete freedom, and it is also false to say that a writer can produce great work under a restricted environment," he said.
"The key is a writer's thoughts deep in his heart."
When asked which book he would recommend to readers in the West, he picked his latest work, Life and Death Are Wearing Me Out.
The book covers peasant life in China from 1950 to 2000.
"It reflects the historic change of contemporary China."
As for censorship, Mo said he disliked it, but believed it was necessary, like intrusive security checks and was present in all societies.
"I resent all kinds of censorship just like I don't like the security check before entering embassies and boarding planes. They even require you to take off your shoes and belts. But I think censorship, just like security checks, is necessary. I think news censorship virtually exists in every country, even though the criteria and standard may vary," he said.
Mo was wearing a black suit and his shirt revealed a tantalizing hint of Chinese culture, according to a leading fashion designer.
"The shirt is designed with a pattern stamped from a Chinese seal with the characters for Mo Yan, his pen name," Chen Bei, creator and designer with leading fashion brand Beistyle, told China Daily. Chen designed all the clothes for Mo and his family for the Stockholm trip.
"The seemingly casual combination of numerous seals on hemp cloth actually follows a design," Chen said, adding she believed clothes speak their own language.
"To Mo, the language is simple and intelligent, it's both international and Chinese, and with great taste," Chen said.
The Beijing-based Chinese designer has spent a decade in Paris and counts French writers, actresses and politicians as her clients.
Chen is adept at combining Chinese elements to Western cuts, which she hopes will send out welcoming signals to the international audience.
She has applied the language of design to Mo and also to outfits for Mo's wife and daughter who traveled with him. Mo is to deliver a keynote lecture on Friday.
He said he spent two days writing his speech, and he plans to "talk about truth and talk about himself".
Contact the writers at meijia@chinadaily.com.cn
Special coverage: