Program seeks to improve quality of air by 2015
The Chinese government vowed to further cut gas emissions and pollutants as a new plan targeting pollution was unveiled on Wednesday.
The intensity of PM2.5, which measures particulate matter smaller than 2.5 micrometers, will be cut by at least 5 percent by 2015 from 2010 levels in 13 major areas, according to the Ministry of Environmental Protection's plan.
The level of PM10 and sulfur dioxide will be reduced by 10 percent, while nitrogen dioxide will be cut by 7 percent, according to the plan.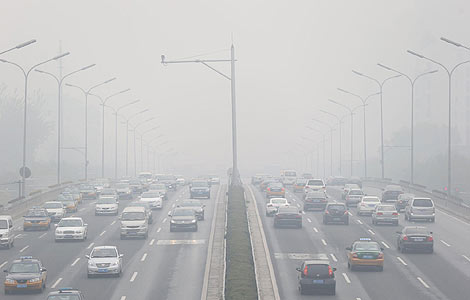 Vehicles drive in dense fog in Beijing in this Nov 16, 2012 file photo. [Photo/Xinhua]  
The plan, approved by the State Council on Sept 27 and unveiled on Wednesday, is China's first comprehensive plan on reduction of overall air pollution.
Its release came after Xie Zhenhua, China's top climate-change official, said at the UN climate talks in Doha on Monday that China plans to cut its energy intensity by 16 percent and carbon intensity by 17 percent from 2010 levels.
The 13 major areas cover 14 percent of the nation's geographic area and 117 cities. They contribute 71 percent of the country's economy and account for 48 percent of the population. They also produce half the emissions in China of major pollutants such as sulfur dioxide and nitrogen dioxide.
PM2.5 intensity will be cut by at least 6 percent in the Beijing-Tianjin-Hebei region, the Yangtze River Delta region and the Pearl River Delta region, all of which are China's most prosperous areas.
"This is a target that could be met as long as we work a little bit harder," Zhao Hualin, director of the ministry's pollution prevention department, told a news conference on Wednesday.
The plan also admitted some realistic problems, such as a relatively outdated environmental regulation system, lack of coordination between local authorities and the fact that most cities still lack an air pollution monitoring system.
Meanwhile, a set of concrete plans have been made to meet the air pollution reduction targets. China will further limit the number of industrial programs with high-energy consumption and pollution and further promote the use of clean energy. The consumption of coal energy will also be limited.
Meanwhile, gas pollution will be further targeted in the next three years and high-emission vehicles will be banished from the Beijing-Tianjin-Hebei region, the Yangtze River Delta region and the Pearl River Delta region.
Beijing started releasing PM2.5 data this year and the municipality plans to reduce major pollutant indexes, with PM2.5 falling to 60 micrograms per cubic meter in 2015, from the current level of 70 to 80 micrograms.
Duan Yusen, chief engineer at the Shanghai Environmental Monitoring Center, said it's still unknown whether Shanghai could meet such a target in three years.
"We just started the trial to publish PM2.5 results this June, and by the middle of next year we'll get our first data on the average annual concentration for PM2.5, it's too early to tell," he said.
Shanghai and cities in Jiangsu and Zhejiang provinces started to use a new air quality reporting system on Nov 16 to provide more accurate readings.
The new evaluation criteria takes the results of PM2.5, carbon monoxide and ozone into consideration in addition to figures for sulfur dioxide, nitrogen dioxide and PM10, while the old system monitored only the latter three.
Contact the writers at xuwei@chinadaily.com.cn and shiyingying@chinadaily.com.cn
Special: