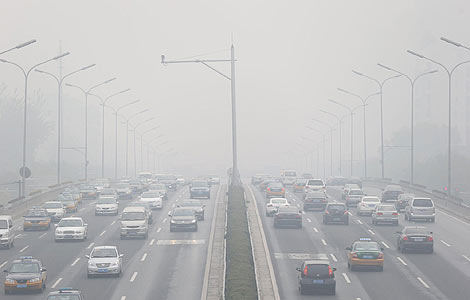 Vehicles drive in dense fog in Beijing in this Nov. 16, 2012 file photo. [Photo/Xinhua]
BEIJING - China will spend 350 billion yuan ($56 billion) by 2015 to curb air pollution in major cities, the environmental watchdog said on Wednesday.
Local governments will fund most of the programmes aimed at cutting the level of harmful particles in the air in 117 cities by at least 5 percent between 2011 and 2015, the Ministry of Environmental Protection said in a statement on its website.
Doctors warn that the tiny floating PM 2.5 particles, named for their less than 2.5 micrometre diameter, can settle in the lungs and cause respiratory problems and other illnesses.
China began publishing data on the amount of such pollution earlier this year in an effort to address concerns from residents that pollution readings were grossly understated.
Chinese officials have acknowledged that the thick cocktail of smokestack emissions, vehicle exhaust, dust and aerosols that often fills the air in many cities is a growing concern to increasingly prosperous urban residents.