Gao Xiaosong thought he might be the right person to comment on cultural and social issues in China and the United States when he was pitching stories in Hollywood in 2006.
He'd been one of China's most successful songwriters and had created such smash hits as On the Same Page as You, which ushered in the "collegiate ballad" era in the 1990s.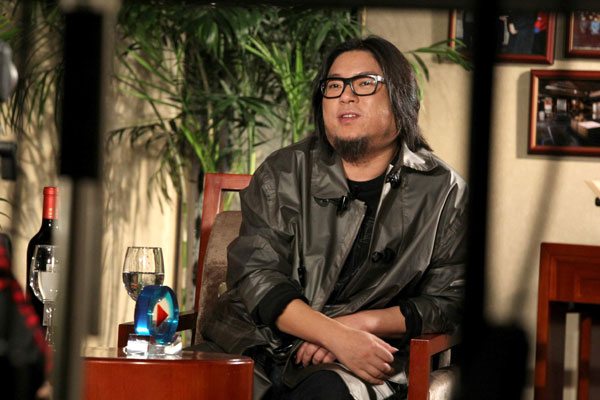 Gao Xiaosong has gotten busier after getting out of jail for drunken driving. JIANG DONG / CHINA DAILY
When he visited his mother, who lived in Los Angeles, in 2006, he learned a small production company in Hollywood was recruiting directors. Gao was chosen by the company, which focuses on two genres: soft porn and art-house. He jokes the only difference is the heroine's breasts' size.
The film he directed never premiered, but he stayed in Hollywood to try his luck in the industry.
Gao's plan was to remake Chinese stories into American ones.
As an ardent history book reader, he initially wanted to write about ancient Chinese brothels but soon found there is no US equivalent.
In ancient China, men couldn't choose their wives — their parents arranged their marriage.
But the women in brothels were trained in music, painting and calligraphy. They could even discuss poetry. Ancient Chinese men went there not only for sex but also for romance.
Gao turned to biaoju — an organization that escorts merchants' goods and money along long journeys. Again, there was no US equivalent because Americans have their own guns.
"I found a lot of fun in these small discoveries, and I want to share them," he says.
Since March, he has been hosting a weekly talk show run by the video website Youku.com. He not only talks about brothels and biaoju but also the US presidential election, guns and healthcare.
His "small discoveries" shine like golden nuggets in every 20-minute episode.
Gao told audiences the presidential election is the US' largest talent show, only the procedures are more complex than American Idol. He shared his observations on the two candidates, pointing out this is the first contest in which neither is a WASP, or white Anglo-Saxon protestant.
When Gao talked about Asian-Americans, he related to young audiences by referring to Blair Waldorf, the Upper East Side "it" girl in New York and protagonist of Gossip Girl, whose two close friends are Asian and black.
"I know I am not a thoughtful person. But I know something about everything," he says.
Gao jokes the show is meant to help people become popular at dinner parties and to help men court women.
The host says he's pleased to read Web comments from viewers, who say they spend 20 minutes watching the show and an additional four hours researching the topics.
Youku says Gao's show averages 1 million clicks an episode.
But not everyone likes it. Highbrow viewers believe he stoops to the lowest common denominator. Lowbrow viewers demand more eye candy.
So, Youku wants to give him a beautiful female co-host to raise questions for him to answer.
"Then, let her stand behind me and not talk," Gao says, jokingly.
But he was so talkative that he would talk for one hour for only the first question.
Youku may have good reasons to add the woman. Gao's Versace sweater and designer glasses make him stylish, but he's generally not thought of as handsome.
But he doesn't complain about his looks.
"Everything else in my life is so right; you can't have it all," he says.
Gao was born with a silver — the Chinese say "golden" — spoon in his mouth.
His grandfather was president of the prestigious Tsinghua University. His maternal grandfather graduated from the Imperial College London and founded Shenzhen University.
He basically grew up on Tsinghua's campus, and studied in the top schools in China, before he, unsurprisingly, entered Tsinghua's electronic engineering department, one of the school's best majors.
He wrote On the Same Page as You at age 24.
Almost overnight, every young person knew the song by heart.
That tune and his later works made him a household name in the country. He later became a judge on the smash-hit variety show China's Got Talent.
The 43-year-old has a younger wife and a daughter, and splits his time between his Los Angeles and Beijing homes, working as a book author, composer, film director, judge and, now, talk show host.
Everything has gone right for him aside from one major bump in the road — he was arrested for drunken driving in 2011, after he left the first press conference for his film, My Kingdom.
He impressed many by stopping his lawyer in court to admit guilt.
"For me, the six months was not a result of the trial but also an atonement," he says.
"To be honest, if I was given a life sentence, I would have appealed, but six months is like a leaf falling from the tree of life — no big deal. I was a spoiled bastard in many ways before 40. So, maybe it was an opportunity to pay for my wildness and arrogance in my youth."
In jail, he read The British Encyclopedia and translated Garcia Marquez's novel Memories of My Melancholy Whores.
"I was too sensitive to read novels, so I turned to the encyclopedia, and translating Marquez's book was comforting, because, as a 90-year-old man, he was more depressed than me. My depression seemed like nothing," he says.
The hardest thing for him in jail wasn't sleeping between a thief and a gangster but, rather, missing his daughter's development from ages 3.5-4.
After getting out of jail, he told his wife, a pious Buddhist: "Do not ask the Buddha for anything. We already have enough."
Gao has become even busier after his DUI.
A tour concert of his songs is going around the country, while Morning Talk airs weekly. He is scouting new vocal talent for a music company, and his next film is in progress. But he knows clearly what he wants from life — he plans to focus on music until he turns 60, after which he'll focus on writing and film directing.
"You can never write pop music at 60," he says.
"I don't complain about that. But you can always write a good book or direct a good film, no matter how old you are."
Contact the writer at liuw@chinadaily.com.cn.