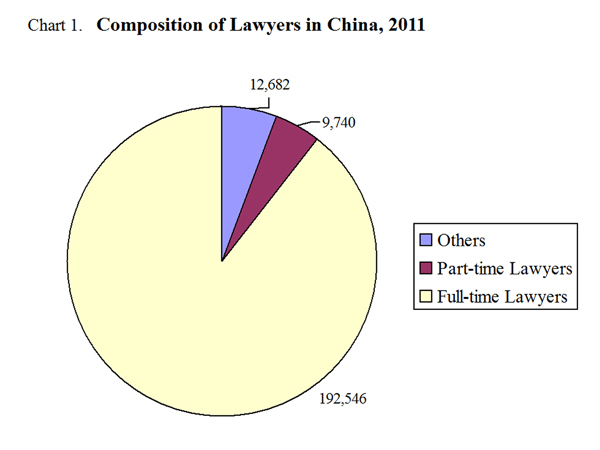 The graphics shows composition of lawyers in China in 2011, according to China's white paper on judicial reform published by the Information Office of the State Council on Oct 9, 2012. [Xinhua]
(Chart 1. Composition of Lawyers in China, 2011)
Expanding space in which lawyers play their role. China has borrowed international experience in establishing the systems of public defenders and corporate lawyers. Since 2002, the country has trial-established the systems to provide legal counsel for government decision-making and major corporate operations, thus improving the structure of the law business that is composed of public defenders, corporate lawyers as well as lawyers in the common sense (including full-time and part-time ones). The Lawyers Law, revised in 2007, improves the organizational form of law firms, allowing individuals to open law firms. Thus, a setup of state-funded, partnership and individually owned law firms has been established. By the end of 2011, China had had 18,200 law firms, an increase of 31.6% compared with 2008. Among them, 13,500 were partnerships, 1,325 state-funded ones and 3,369 individually owned ones. There had been more than 210,000 lawyers, of whom full-time lawyers accounted for 89.6%, part-time ones made up 4.5%, while the rest were corporate lawyers, public defenders, legal-assistance lawyers and military lawyers. In 2011, China's lawyers acted as legal counselors for 392,000 clients, an increase of 24.6% compared with 2008; they handled 2.315 million litigation cases, 625,000 non-litigation cases and 845,000 legal-assistance cases, up by 17.7%, 17% and 54.5% respectively as compared with 2008.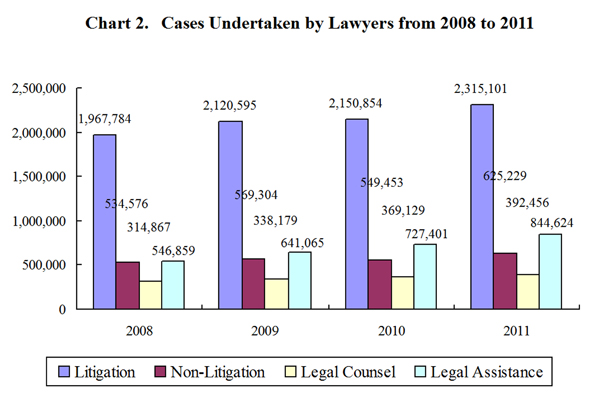 The graphics shows cases undertaken by lawyers from 2008 to 2011, according to China's white paper on judicial reform published by the Information Office of the State Council on Oct 9, 2012.[Xinhua] 
(Chart 2. Cases Undertaken by Lawyers from 2008 to 2011)
Reforming the funding guarantee system for judicial organs. China initiated a new round of judicial reform in 2008, clearly proposing that a funding guarantee system for judicial organs will be established, featuring "funding by category, separate management of income and expenditure, and full-sum coverage." The central and provincial governments have increased their funding for judicial organs, ensuring full-sum coverage for the expenses of judicial organs at all levels, resulting in great improvement in the performance capacity of grassroots judicial organs. Litigation fees collected by judicial organs in accordance with the law and revenues from fines and confiscations are all turned over to the national treasury to ensure the separation between income and expenditure as well as between penalty decisions and penalty payments, so as to halt wanton collection of fees and fines that are driven by the hunger for economic gains. The state has also formulated standards for the construction of basic facilities and equipment for judicial organs to improve their working conditions and information and technological levels, providing concrete guarantees for enhancing judicial capabilities.