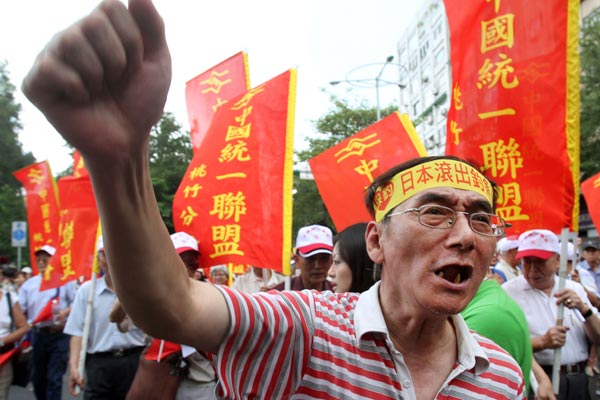 Protesters denounce Japan's so-called control of China's Diaoyu Islands in Taipei on Sunday. Chiang Ying-ying / Agencies
China on Sunday postponed events, scheduled for later this week, marking the 40th anniversary of Sino-Japanese relations in what analysts called "a strong signal" indicating Beijing was adopting a tougher stance.
Two associations - entrusted by the government to organize events to mark the anniversary - cited Japan's attitude over the Diaoyu Islands as the reason for the postponement.
"Considering the current situation", events to commemorate the normalization of relations between the two nations will be "adjusted to an appropriate time", said a statement by the Chinese People's Association for Friendship with Foreign Countries and the China-Japan Friendship Association.
Events were scheduled to take place on Thursday in Beijing to mark the signing of a joint statement between China and Japan on Sept 29, 1972.
But "the atmosphere has been ruined" due to Japan's "buying" of the Diaoyu Islands in the East China Sea earlier this month, the statement said.
Experts said it is necessary for China to keep pressing Japan.
"China should be tough on the territorial issue," said Feng Wei, a specialist on Japanese studies at Fudan University in Shanghai. "China should take this opportunity to push Japan back to the negotiating table."
Wang Ping, an expert on Japanese studies with the Chinese Academy of Social Sciences, said it is not a good time to celebrate the anniversary as the consequences triggered by Tokyo's "islands-purchasing farce" have not ended.
"We have not seen any sincerity by the Japanese government to improve ties," Wang said.
Foreign Ministry spokesman Hong Lei asked Japan on Saturday to immediately stop all acts that harm China's territorial sovereignty after about 30 Japanese police officers landed on the Diaoyu Islands citing, as an excuse, that they were preventing Taiwan activists from landing.
More than 1,000 protesters in Taiwan rallied against Japan on Sunday in Taipei.
China will use unmanned aerial vehicles to strengthen maritime surveillance over waters around the Diaoyu Islands, Xinhua News Agency reported on Sunday.
Wang, from the Chinese Academy of Social Sciences, said China should "institutionalize" its patrol of the islands.
Some Japanese politicians have called for Tokyo to change its policy, as tensions with China will hurt key Japanese sectors such as tourism and manufacturing.
Hirohisa Fujii, top adviser to the ruling Democratic Party of Japan, said in an interview with Japanese broadcaster NHK that proposals to shelve the Diaoyu Islands dispute for future settlement should be respected.
Fujii, 80, also chief consultant for Japanese Prime Minister Yoshihiko Noda in his re-election bid, urged young people in Japan to learn more about history and acknowledge basic facts, such as Japan had colonized Korea in the 20th century and launched an aggressive war against China.
Hiromu Nonaka, former Japanese chief cabinet secretary, criticized certain Japanese politicians for making the wrong decisions in dealing with the islands, Xinhua reported.
Nonaka said in a recent interview with Chinese media in Japan that the recent row is a pity and he felt sorry for the Chinese people.
"As a Japanese man I feel disgraced. I feel terribly bad for the Chinese people and I want to express my sincere apologies to them," the 87-year-old senior politician said.
Nonaka, who was also a member of Japan's lower house and former secretary-general of the Liberal Democratic Party, had planned to visit China in September. But the trip, to mark the establishment of diplomatic ties between China and Japan, was postponed.
"The political parties in Japan do not seem to be working in the interests of Japan and the Japanese people," Nonaka said. "They do not have the country's future direction in mind and haven't realized the importance of maintaining friendly relations with neighboring countries."
China passed the United States to become Japan's largest export-target country in 2009.
"China has to let Japanese leaders realize that Japan should take China's position as seriously as it treats the US," Feng from Fudan University said, calling for Beijing to use more economic measures to press Tokyo.
Contact the writer at wangchenyan@chinadaily.com.cn