E-commerce company Alibaba Group Holdings Ltd completed an initial repurchase - worth $7.6 billion - of its shares on Tuesday from Yahoo Inc, which had once held the largest number of the company's shares.
The repurchase has progressed quickly since May, when the two companies reached a buyback agreement that set a schedule according to which Yahoo would reduce its stake in Alibaba incrementally. The deal also entitled Alibaba to repurchase the rest of its shares if it held an initial public offering before 2016.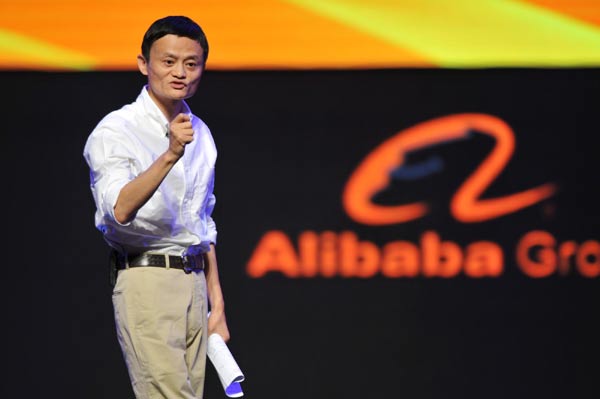 E-commerce company Alibaba Group Holdings Ltd completed an initial repurchase - worth $7.6 billion - of its shares on Tuesday from Yahoo Inc, which had once held the largest number of the company's shares.  [Photo/Xinhua]
By the close of the market on Tuesday, Alibaba had bought back half of Yahoo's 40 percent stake in Alibaba, paying $6.3 billion in cash and $800 million worth of preferred shares in the transaction.
A revised technology and patent-licensing agreement will provide another $550 million to Yahoo.
The deal is the largest to ever involve private financing for a private Chinese company, according to a statement Alibaba issued late on Tuesday.
"The completion of this transaction begins a new chapter in our relationship with Yahoo," Jack Ma, chairman and chief executive officer of Alibaba, said in the written statement. "We are grateful for Yahoo's support of our growth over the past seven years, and we are pleased to be able to deliver meaningful returns to our shareholders, including Yahoo."
Yahoo's return on its investment in Alibaba has been stellar. It acquired the 40 percent stake in 2005 for $1 billion.
The repurchase will now leave Marissa Mayer, the newly appointed CEO of Yahoo, with the financial resources to pay for other plans she has to turn around the stretched company.
"This will yield a substantial return for investors while retaining a meaningful amount of capital within the company to invest in future growth," Mayer said in a separate statement.
Yahoo's shares increased by 1.4 percent on Tuesday to end the day's trading session at $15.90 apiece on Nasdaq.
Meanwhile, partly with Yahoo's support, Alibaba has gone from being a fledgling company to being an industry heavyweight that runs the online shopping sites taobao.com and tmall.com, as well as Alipay, a popular online transaction system.
Alibaba said it financed the deal with a mixture of cash, senior debt and the issuance of convertible preferred and ordinary shares.
Eight international banks, including Australia and New Zealand Banking Group Ltd, Barclays Bank Plc and Citigroup Inc, provided $1 billion of senior debt financing for the transaction, and China Development Bank provided another $1 billion.
The Chinese company raised the remaining money it needed for the repurchase by issuing preferred shares, taking out bank loans and selling a greater stake in itself to existing shareholders such as the Singaporean state investor Temasek Holdings Pvt Ltd and investment firm DST Global.
Alibaba declined to disclose its new shareholder structure. The deal, though, has resulted in Yahoo and its fellow investor Softbank Corp of Japan controlling less than 50 percent of shareholder votes.
Yahoo also agreed to give up the veto it had wielded over Alibaba's strategic and business decisions.
A series of actions have been taken to ensure Alibaba can have more of a say in such decisions, paving the way for a business restructuring and a potential IPO, according to Lu Zhenwang, an e-commerce analyst.
The latest transaction comes at the end of more than $12 billion worth of acquisitions and financing steps Alibaba has taken in the past 12 month, Lu said.
In 2011, investors led by DST Global and Temasek Holdings, as well as the private equity firms Silver Lake and Yunfeng Capital, provided $2 billion in liquidity to Alibaba.
In June, the company finished privatizing Alibaba.com Ltd, the company's business-to-business trading platform, which had been listed on the Hong Kong Stock Exchange.
The financing, which was backed by leading private equity companies and financial institutions, suggests the capital market has confidence in Alibaba and China's e-commerce sector, said Lu Benfu, a professor with the Chinese Academy of Social Sciences.
Many investors hope Alibaba will hold an IPO in the next three to five years, saying they look favorably on the company's method of making revenue and its solid market position, according to Feng Po, a senior analyst from ChinaVenture Investment Consulting Ltd.
But Yang Weiqing, founder of the Beijing-based iResearch Consulting Group, said Alibaba would be wiser to organize a separate listing of some its units rather than holding an IPO for the whole company, saying Taobao and Alipay are both full of appeal to investors.
"Profits are likely to be watered down by the faltering (business-to-business) unit if Alibaba seeks a general listing," he said. "However, as long as the company manages to improve its business structure over the coming years, a general IPO remains the most attractive choice."
hewei@chinadaily.com.cn
(China Daily 09/20/2012 page14)