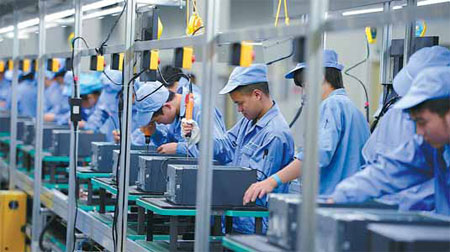 Lenovo Group Ltd's assembly plant in Chengdu, Sichuan province. The company's latest strategy will concentrate on more profitable sectors such as enterprise business and servers. Provided to China Daily
Chinese giant hopes to increase presence in PC service sectors
Lenovo Group Ltd, the world's second-largest PC maker by market share, has made its first foray into software development after buying the US-based cloud-computing company Stoneware Inc, for an undisclosed amount, which has millions of users in education and the US public sector.
This year Lenovo has squeezed into the top five PC sellers in the US market, but it still seeking business opportunities to increase its share.
The Chinese company launched a new strategy this year called "PC Plus", which means on top of its PC business, it plans to focuses on other product lines such as mobile Internet, and grow its cloud-computing offerings that allows users to access data remotely or control different devices via a single computer.
"Adding Stoneware's cloud computing into the Lenovo line-up presents a significant opportunity to enhance our PC Plus offerings," said Peter Hortensius, senior vice-president of Lenovo, and president of the company's Product Group.
"The talented team at Stoneware will fit in our long-term strategy."
The purchase is Lenovo's third overseas acquisition in the past couple of months.
It agreed to buy Brazilian consumer electronics maker CCE in a cash-and-shares deal worth approximately 300 million Brazilian reais ($147 million) earlier this month, and signed an agreement with US-based data-management company EMC Corp to develop and sell server and storage technologies in August.
Analysts from the US-based IT research company IDC said they believed the deals will cement Lenovo's position in the enterprise, server and storage sectors while global PC growth slows this year.
"The global and domestic PC markets are growing very slowly, and some even had negative growth this year," said Wang Jiping, a senior analyst from IDC China.
Lenovo's PC Plus strategy will enable it to earn from more profitable sectors such as enterprise business and servers, Wang explained.
In order to compete against mobile Internet products from rivals Apple Inc and Samsung Electronics Co, such as smartphone and tablet PCs, Lenovo will use Stoneware to build a "public cloud" for consumers, the company said.
The service may be used to compete with Apple's iCloud service, which allows customers to store media content through the Internet.
"The purchase of Stoneware is critical to Lenovo's broader PC Plus strategy. With the momentum of an expanding tablet PC and smartphone business and a newly formed joint venture with EMC, Lenovo aims to offer end-to-end secure solutions to business customers and cloud-based technology to consumers," Lenovo said in a statement.
Stoneware has 67 employees, located in Indiana and Salt Lake City. As part of the agreement, it is expected that all US-based Stoneware employees will join Lenovo.
tuoyannan@chinadaily.com.cn
(China Daily 09/19/2012 page15)