VLADIVOSTOK, Russia - Chinese President Hu Jintao met with Russian President Vladimir Putin ahead of the three-day summit of Asia-Pacific leaders.
It's the second time the two leaders have met within three months. Putin, who begun his third term as Russia's president in May, paid a state visit to China and attended the Beijing Summit of the Shanghai Cooperation Organization in June.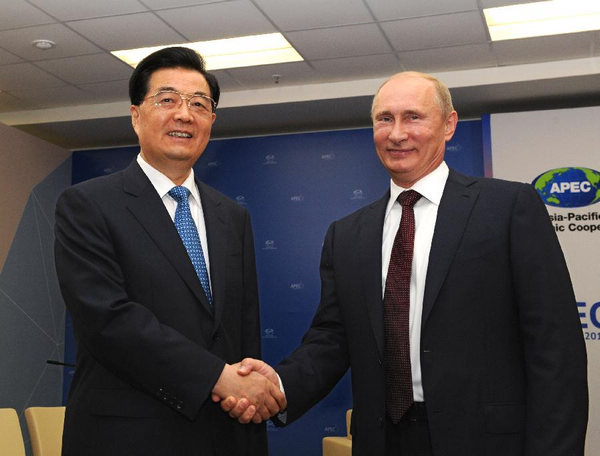 Chinese President Hu Jintao (L) meets with his Russian counterpart Vladimir Putin in Vladivostok, Russia, Sept 7, 2012. [Photo/Xinhua]
Hu said the two would exchange views on bilateral ties and world and regional issues of common concern.
"I am also looking forward to a successful APEC meeting to be presided by President Putin," he added.
Putin thanked Hu for the importance he attached to China-Russia ties and the effort made to promote the bilateral relationship, which Putin said reached a "very high level".
Putin also said that Hu, as the first keynote speaker of the Asia-Pacific Economic Cooperation meeting, which is scheduled to begin Saturday, will "set the tone of the discussion".
The China-Russia strategic partnership has developed steadily in recent years. The two countries have further boosted strategic and political mutual trust, enhanced their trade and economic cooperation, and coordinated closely on major world and regional issues.
Hu and Russian leaders agreed to develop a comprehensive strategic partnership of coordination featuring equality, mutual trust and support, common prosperity and lasting friendship in the new decade during a visit to Russia last year.
Putin, who visited China and had talks with Hu in June, decided to further strengthen the Russia-China comprehensive strategic partnership.
Under a blueprint, the two countries are striving to boost bilateral trade to $100 billion in 2015 and 200 billion dollars in 2020.
In 2011, two-way trade reached record high of $79.2 billion. In the first seven months of this year, bilateral trade stood at 50.9 billion dollars, up 17.7 percent year-on-year.