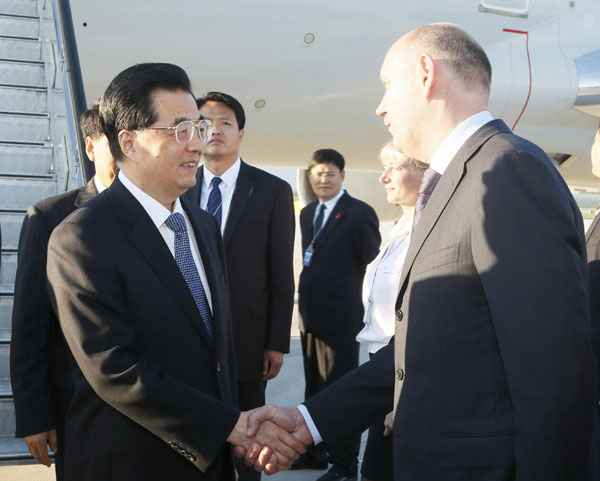 Chinese President Hu Jintao (L) is welcomed upon his arrival in Russia's Far Eastern city of Vladivostok, Sept. 6, 2012, for the annual economic leaders' meeting of the 21-member Asia-Pacific Economic Cooperation (APEC) forum slated for Saturday and Sunday. [Photo/Xinhua]
VLADIVOSTOK, Russia - Chinese President Hu Jintao arrived in Russia's Far Eastern city of Vladivostok Thursday for the annual economic leaders' meeting of the 21-member Asia-Pacific Economic Cooperation (
APEC
) forum slated for Saturday and Sunday.
At the meeting, President Hu and other leaders of APEC members will discuss trade and investment liberalization, regional economic integration, food security and establishment of reliable supply chains, as well as cooperation in fostering innovative growth.
As the world economic and financial situation remains gloomy, with lower growth in major economies, serious debt crisis in euro-zone, high unemployment in many advanced economies, APEC leaders will work out measures to ensure stable growth in the region.
In an address published by the APEC website on Aug 25, Russian President Vladimir Putin said that Russia's chairmanship comes under the motto "Integrate to Grow, Innovate to Prosper."
"Hand in hand with our APEC partners, we are promoting trade and investment liberalization, closer integration, food security, cooperation in the field of prevention and mitigation of natural disasters" and diversification and improvement of transportation and logistics chains.
"I am confident that the summit will contribute to broadening cooperation in the Asia-Pacific and give a new impetus to sustainable development worldwide," he said.
Chinese officials said that at the meeting, Hu will present China's views on how to promote the world and regional economic growth, and elaborate China's stance on the topics of this year's meeting.
Hu is scheduled to deliver a key-note speech at the APEC CEO summit.
In his speech, Chinese officials said, the Chinese president will talk about China's current economic situation and economic policies, and make proposals on developing infrastructure for sustainable growth in the region.
During the meeting, Hu and other leaders will meet members of the APEC business Advisory Council (ABAC) to seek their recommendations for future work in specified priority areas, such as pushing forward the Doha Round negotiations, strengthening regional economic integration, enhancing food security, establishing reliable supply chains, and expanding cooperation in fostering innovative growth.
"We believe that President Hu's attendance at the meeting will play an important role in promoting development of the Asia-Pacific region, advancing the process of regional cooperation and deepening friendly and cooperative relations between China and other APEC members," said Ma Zhaoxu, assistant foreign minister, at a press briefing last week.
Since APEC's birth in 1989, it has grown to encompass 21 members spanning four continents, and represents the most economically dynamic region in the world.
The region accounts for approximately 40 percent of the world's population, around 57 percent of world GDP and about 48 percent of world trade.
APEC's 21 member economies are Australia, Brunei, Canada, Chile, China, China's Hong Kong, Indonesia, Japan, South Korea, Malaysia, Mexico, New Zealand, Papua New Guinea, Peru, the Philippines, Russia, Singapore, Chinese Taipei, Thailand, the United States and Vietnam.