P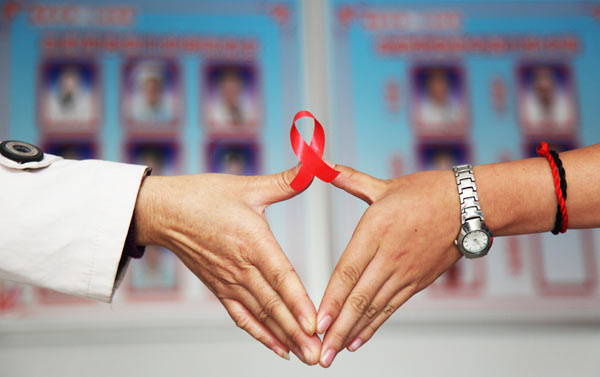 A volunteer and a HIV carrier put their hands together in an event to raise public awareness of HIV/AIDS in Hengyang, Central China's Hunan province in this Nov 29, 2011 file photo. [Cao Zhengping/Asianewsphoto]
People aged 50 and older in China have seen a large increase in HIV/AIDS cases in recent years, a trend that is apparently unique, a senior health official said on Wednesday.
In South China's Guangxi Zhuang autonomous region, men aged 50 and older accounted for nearly 40 percent of newly reported HIV cases in recent years, government epidemic surveillance statistics showed.
The figure stood at about 20 percent across the mainland.
"Worldwide, the new trend is so far detected only on the Chinese mainland, and most of the older carriers were infected via prostitution," Wu Zunyou, director of the National Center for AIDS/STD Control and Prevention, told China Daily at an awareness-raising event in Beijing.
In 2005, 483 new HIV carriers aged 60 and older were diagnosed on the mainland, accounting for 2.2 percent of the total that year, official statistics showed. The number has surged to 3,031 in 2010, or nearly 9 percent of the total that year.
"More targeted intervention measures have to be created to curb the rising HIV cases among senior residents, particularly in counties and rural areas where public awareness on HIV/AIDS prevention remains relatively poor," Wu said.
He said the new trend was related to many factors, including a longer sexually active period of Chinese men and better economic conditions.
"But more sociology research regarding this is needed to explain why this is unique in China and how to reverse the situation," he said.
Ge Xianmin, a key official with the HIV/AIDS prevention and control office in Guangxi, said that those with little education and low income have the highest risk of infection.
By the end of June, nearly 93 percent of newly reported HIV/AIDS cases in Guangxi were due to unprotected sex, and 30 percent of those cases were older men, he said.
A growing number of rural women left behind by husbands who sought employment in cities entered the sex trade, targeting mainly older men in rural areas, he said.
"That's a key reason for quickly rising HIV prevalence among local senior men," he added.
A high HIV infection rate — up to 10 percent — among local inexpensive street prostitutes whom the older men usually visit is part of the reason for the high prevalence among the seniors in Guangxi, Wu Zunyou added.
Wu said it is estimated that about 1 percent of such prostitutes on the mainland are HIV positive.
Zhao Yan, deputy director of the AIDS treatment and care division at the center, conceded that it is hard to reach the rural groups for intervention.
Also, they have less fear about being infected given that they are already old and that it takes a long time, usually 5 to 10 years, to develop full-blown AIDS and show symptoms, Wu noted.
So far, most of the older people with HIV were diagnosed at hospitals while seeking treatment for other diseases, he said.
To find as many senior carriers as possible, Wu called for more involvement of hospitals into HIV/AIDS intervention efforts, including testing and treatment service that are currently carried out by the Chinese Center for Disease Control and Prevention and its local branches.
Wu said a pilot project co-held by the center, the No 1 Affiliated Hospital of China Medical University in Shenyang, Liaoning province, and the US-based pharmaceutical company Abbott Laboratories was recently launched to further enhance HIV/AIDS care and treatment access among those infected.
shanjuan@chinadaily.com.cn