A photo exhibition featuring teachers working in rural areas is being held in Beijing from Aug 21 to 25 at the Chinese Military Museum.
The exhibition is being held as part of a competition that searches for remarkable stories of rural teachers.
The competition, launched in June by the Guangming Daily and China Central Television, aims to discover teachers working under challenging conditions in rural China.
A total of 142 paintings and calligraphy works and 133 photos are displayed in the exhibition. The works have been selected from more than 1,000 art works and photos entered in the competition.
A series of photos named Teacher Couple on the High Ladders, won first place in the competition. The photos feature two young teachers in the Liangshan Yi Autonomous Prefecture in Sichuan province, going to extreme measures to get their students in a remote village to school.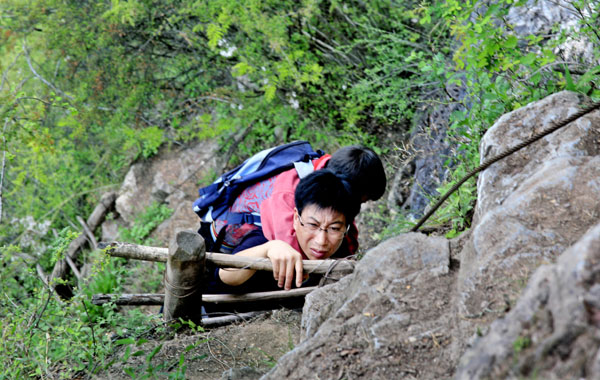 A teachers uses iron ladders to help the students climb over a steep mountain to reach a bridge that they need to cross to get to their school.[Yuan Xiaozhen/gmw.cn]
The teachers use iron ladders to help the students climb over a steep mountain to reach a bridge that they need to cross to get to their school.
The teachers carry the students on their backs to stop them from falling off the ladder.
Yuan Xiaozheng, the 68-year old photographer behind the series, said he has visited the couple more than ten times over the past two years.
"The first time I tried to climb up the mountain on the ladders with the teachers in 2009 I fell off the ladder and badly hurt my forehead on the rocks," he said, "That's why I had to visit them again to take good photos. But then I came up with the idea to capture their lives and how it changes every few months."
Other award-winning photos in the exhibition include the one featuring a college graduate teaching in rural area in Henan province. The young woman cycles to the city every weekend to buy second-hand books to build a library for the rural kids.
Another photo titled Champions for the Future, features a retired PE teacher providing physical training to rural kids on rough wooden bars. Some photos feature rural teachers who have spent many years in schools that have only five or six children due to rough conditions and poverty.
Feng Xiaoping, a 60-year-old Beijing resident, shed tears upon seeing the exhibition.
"We should have more chances like these to know how difficult rural education is, as well as the devotion of these rural teachers," she said. "They are devoting their lives to the future generation."