A group of women calling for workplace equality demonstrated on Tuesday outside a Beijing company that has been accused of rejecting a job candidate because of her gender.
The 12 women, ranging in age from 19 years old to their early 30s, sang pop songs, read poetry and danced for hours outside the offices of Juren Education Technology Co in Haidian district.
An organizer of the event, who gave her name only as Li, said the demonstration's purpose was to raise awareness of the problems female job-seekers face.
"Discrimination … takes place every recruitment season," said Li, a college student who traveled 20 hours from the Guangxi Zhuang autonomous region.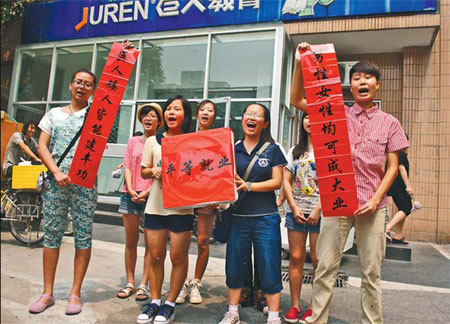 Female netizens on Tuesday gather outside an education company in Beijing to protest against policies they say the company uses to discriminate against women. Wei Xiaohao / China Daily
"The problem has never been solved," she said. "I hope employers can hear our voices, ones from the grassroots."
The protesters targeted Juren Education because it is being sued for alleged sex discrimination.
A woman surnamed Cao, originally from Shanxi province, filed her case with Beijing's Haidian district court.
Cao claims a human resources employee at the company told her she had been rejected for an office assistant's job because it was a "man-only" position.
China Daily was unable to contact a court spokesperson on Tuesday.
Cao's allegations prompted Li to start a related online discussion group, which she said now has more than 100 members.
Zheng Churan , 23, a recent graduate of Sun Yat-sen University in Guangzhou, sympathizes with Cao.
"I majored in sociology, giving me many opportunities to read data about sex discrimination in the workplace," she said.
"Boys in my class have found it much easier to get a job than the girls. Most boys got offers in winter, but girls are still waiting in April."
A human resources employee at Juren Education Technology Co who declined to reveal her name said she had no information about Cao's allegations.
A 33-year-old employee in the company's curriculum-development department who gave her name only as Wu said she believes everyone is treated equally during recruitment.
"As an education company, we do have more women than male workers," she said, adding that she started work with the company last year.
The head of the company was unavailable for comment.
Liu Xiaonan, an associate professor at China University of Political Science and Law, who specializes in labor discrimination, said the case could be the first lawsuit filed over job-recruitment sex discrimination since the Employment Promotion Law went into effect in China.
Liu said the demonstration will raise social awareness of the issue.
"The protest brings pressure on all employers, and reminds them to treat their employees equally," Liu said.
luowangshu@chinadaily.com.cn