China and Japan should work closer together amid the deepening European debt crisis to tackle regional and global economic problems, Japanese Prime Minister Yoshihiko Noda said in a letter addressed to a key forum on Sunday.
The prime minister also emphasized that China's further development will translate into opportunities for the world's third-largest economy.
"China's rapid economic growth means opportunities for the international community, including Japan," Noda said. "Not only should both countries strengthen economic and trade cooperation, but they should also join hands to tackle regional and global issues and contribute to global peace and prosperity," he added.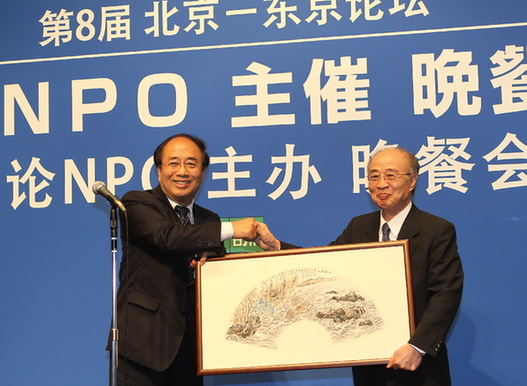 Zhao Qizheng, (left), head of the foreign affairs committee of the National Committee of the Chinese People's Political Consultative Conference, and Akashi Yasushi, former United Nations under-secretary-general, display a painting that celebrates cooperation in the face of adversity. [Photo/China Daily]
Noda made the remarks in a letter read out during a banquet at the launch of the Beijing-Tokyo Forum which is being held in the Japanese capital from July 1 to July 3.
The forum, cosponsored by China Daily and Genron NPO, a Japanese think tank, has been held alternately, in Beijing and Tokyo, since 2005.
The annual gathering is one of the most significant platforms for communication among high-level non-government institutions from the two countries. This year's forum is being held under the theme "Future-Oriented China-Japan relations in a Global Perspective".
This year also marks the 40th anniversary of the normalization of diplomatic relations between China and Japan.
China's export growth has been slowing down, due to Europe's debt woes.
In Japan, despite plans to spend 20 trillion yen ($252 billion) to rebuild areas devastated by the 2011 earthquake, industrial output fell for the second straight month in May.
Zhao Qizheng, head of the foreign affairs committee of the National Committee of the Chinese People's Political Consultative Conference, said both governments should enhance cooperation to counter the global economic crisis.
Zhao brought three Chinese paintings from Shanghai. One of the paintings showed the scene of Wu Yue Tong Zhou, a story that was written in the Sun Zi Bing Fa (The Art of War). It said that in the Spring and Autumn Period, about 2,000 years ago, people from the kingdoms of Wu and Yue — bitter rivals — were trying to cross a river by boat during a storm. They chose cooperation rather than confrontation and after reaching their destination safely they ended their rivalry.
Both nations could be compared to the Wu and Yue kingdoms, and they are facing global economic waves, Zhao said.
Ties between Beijing and Tokyo were strained during 2010 after a Chinese trawler collided with patrol boats from the Japanese Coast Guard in waters near China's Diaoyu Islands.
They were further strained in April after Shintaro Ishihara, the governor of Tokyo, said that his city prefecture was negotiating with the "owner" of the islands in the hope of "buying them by the end of this year" and started raising money for the proposal.
Despite the landmark anniversary, "diplomatic relations between the two nations are still not yet normalized," said Ogura Kazuo, former chief director of the Japan International Exchange Foundation during the banquet.
"It takes time to make it happen, and it requires joint efforts to make it happen," he added.
Akashi Yasushi, former United Nations under-secretary-general agreed, saying that there is much more to do to boost friendship between the neighbors.
"The forum is a good chance for us to earnestly discuss issues between our two countries, and it is expected to be a milestone in building a sound relationship," he said.
An annual survey on China-Japan relations released in June, under the forum, showed that people from both China and Japan are "not satisfied" with current relations and disputes over territory were cited as an obstacle to better ties.
However, the survey found that the majority of people in both countries hold Sino-Japanese relations in high regard and believe economic growth can be "mutually beneficial".
China replaced the US in 2007 to become Japan's largest trade partner. China is the largest export destination for Japanese goods. Japan is a major source of China's foreign direct investment. While China's FDI had declined in the six months ending in April, foreign investment from Japan has been rising.
The governments of China, Japan and South Korea reached an agreement in May to launch negotiations for a three-way trade pact this year. The pact, if signed, could lift China's GDP by up to 2.9 percent, Japan's by 0.5 percent, and South Korea's by 3.1 percent, according to the Ministry of Commerce.
Contact the writer at dingqingfen@chinadaily.com.cn