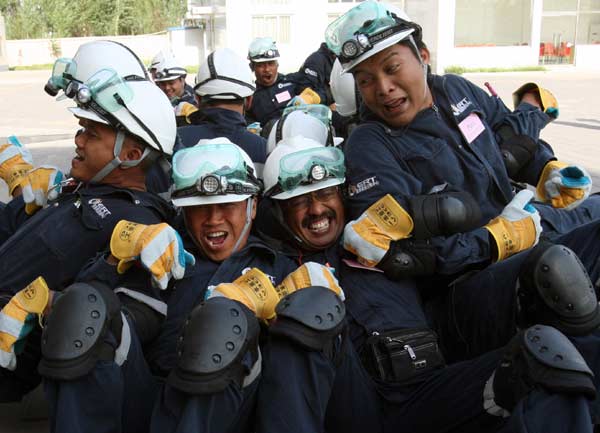 Indonesian emergency relief workers receive training at the China Emergency Relief Training Center in Beijing on Monday. JIANG DONG / CHINA DAILY 
First responders taught disaster relief skills in five-day course
Sixteen medical and emergency relief workers from national and regional departments of Indonesia started a five-day training course in an emergency company in Beijing on Monday to enhance their rescue skills.
They are taking part in a pilot program carried out by the World Bank and the Global Facility for Disaster Reduction and Recovery. The course is part of the bank's larger program to provide training to medical and emergency relief workers from Southeast Asia and other regions on a regular basis.
The World Bank selected the China Emergency Relief Training Center, a company located in the Shunyi district of Beijing, to design and provide the training course to the Indonesian trainees.
The course helps the trainees become better equipped to conduct disaster relief by offering them different skills for search and rescue in a disaster area.
Paul Procee, the World Bank specialist who heads the program, said the primary goal is to bring China's experience with disaster relief to other countries in Asia, especially those in Southeast Asia that are vulnerable to frequent disasters, such as typhoons, flooding and earthquakes.
"China is well known to have done a remarkable job in many disaster rescue operations, and I think it's an example for many countries around the world," said Procee, who oversees the bank's projects in China, including the Wenchuan Earthquake Recovery Project, which is the bank's biggest project in China.
"We felt that with the World Bank being a global organization and the way China is developing, it's also time for China to bring its knowledge to other participants (countries) in the region and around the world," Procee said.
The World Bank has granted $40,000 to cover all the costs of the training course. "We have a number of facilities in Japan and New Zealand that provide similar training, but China is very centrally located in the region, and the training center offers a very competitive price and very intelligent people."
"We started talking to the World Bank in August last year," said David Wong, chairman of the training center. "If it is successful, we'll roll it to other countries, such as the Philippines and Malaysia."
The World Bank has assigned two officials to inspect the training course. They will take feedback from trainers and the trainees and report to the bank for final assessment to decide whether it will settle an emergency relief training base in Beijing permanently.
"Many disaster events have occurred in Indonesia, so Indonesia has been called the 'Laboratory of Disaster'," said Harmensyah, deputy director of emergency aid of the National Agency for Disaster Management of Indonesia. "In emergency response, China has (been) considered the country with best capacity. In line with this, Indonesia has great interest in learning directly from China."
The first day's training focused on casualty triage and disaster scene rescue guidelines. Trainees learned how to categorize casualties based on different priorities and how to conduct safe and effective rescue work.
Rien Pramindari, an official from the center of health crisis of Indonesia's Ministry of Health, also a trainee, thought the first day was informative.
"It's very interesting. In Indonesia, we have this training, actually, but it's not very international ... I'm not a field worker. This is the first time I have learned about the details of rescue fieldwork ... This training helps me understand what my colleague's work is like and what they need, and I can share my knowledge with other colleagues."
"What we provide in the five-day training course is all basic and necessary know-how for a professional emergency relief worker ... There may be a new idea or method in emergency rescue every year in the international society. One needs to keep their knowledge updated," said Lee Honcheung, a training manager for the center, who has also been a rescue worker in Hong Kong for 12 years.
"On the other hand, in order to maintain and improve their rescue skills, one must never stop drilling or practicing. Otherwise, they may forget how to do their work right when they are at the disaster scene."
wangqingyun@chinadaily.com.cn