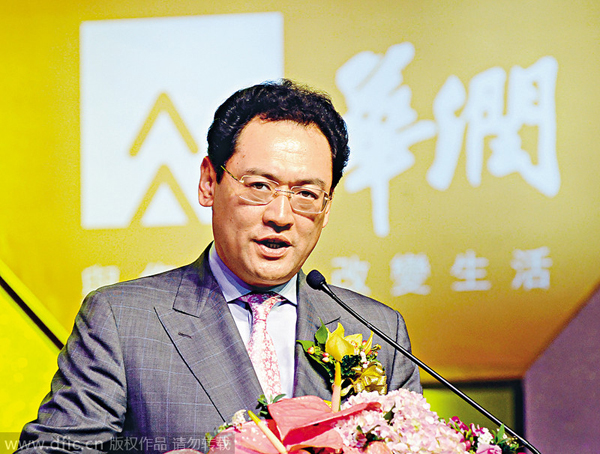 Song Lin, chairman of China Resources Group, speaks during a ceremony in Hong Kong, Mar 1, 2010. [Photo/IC]
More than 70 top executives in State-owned enterprises were placed under investigation last year amid a nationwide campaign to crack down on corruption, according to a recent survey by the website of People's Daily.
SOEs in the energy and resources sector are the most prone to corruption, and nearly 20 executives in such companies were charged with corruption last year, followed by companies in the finance, media and telecommunication sectors, according to the survey.
Song Lin, former chairman and Party chief of China Resources, was brought down last April.
In 2012, Song was listed as one of the "50 Most Influential Business Leaders" by Fortune. Song came under investigation over the acquisition of Jinye Corp, in Shanxi province, which resulted in the loss of State-owned assets worth 1 billion yuan ($160.9 million). He was dismissed from his position for "serious violations of party discipline and laws".
Seven other top executives in the company were also investigated, including Wang Yujun, president of China Resources Power Holdings Co.
Sun Zhaoxue, former general manager of China's top aluminum producer, was investigated for allegedly accepting bribes. The Central Commission for Discipline Inspection found that Sun took advantage of his post to seek profit for others, asked for and accepted "a huge amount in bribes" and committed adultery.
China National Petroleum Corporation, China's largest oil and gas producer and supplier, was hit hard in the anti-corruption campaign. Wang Lixin, head of the company's disciplinary department, was investigated last December and two former top executives were also held for investigation shortly after Wang was held.