Editor's Note: China's fight against graft is casting a wide net at home and abroad. China Daily tallies the haul.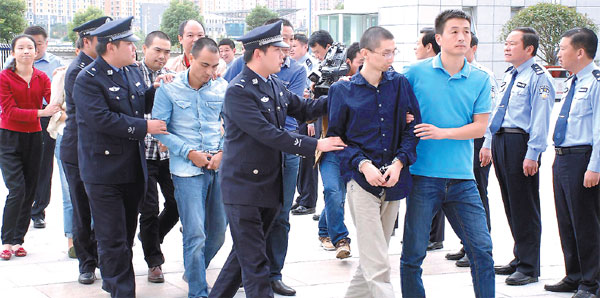 A special anti-graft investigation squad attached to the 'Fox Hunt 2014' campaign escorts four suspects to China from Malaysia on Oct 16. Provided to China Daily
Hunting down financial suspects hiding overseas
In April 2012, Wang Guoqiang, former Party chief of Fengcheng, Liaoning province, obtained a passport and visa to attend his daughter's graduation ceremony in the United States.
But he was apparently not planning to return home. The senior official had transferred assets worth 200million yuan ($32.5million) out of the country before leaving for the US with his wife, according to the provincial commission for discipline inspection.
More than two years later, on Dec 23, following joint operations between Chinese and US authorities, Wang returned to China and surrendered.
The Central Commission for Discipline Inspection of the Communist Party of China, the country's top anti-graft agency, is now investigating Wang, who is suspected of taking bribes and embezzling public funds.
Wang is one of many officials in the past few years who had fled overseas, including to the US, Canada and Europe, transferring illegally obtained assets through money laundering and underground banks. [Full story]