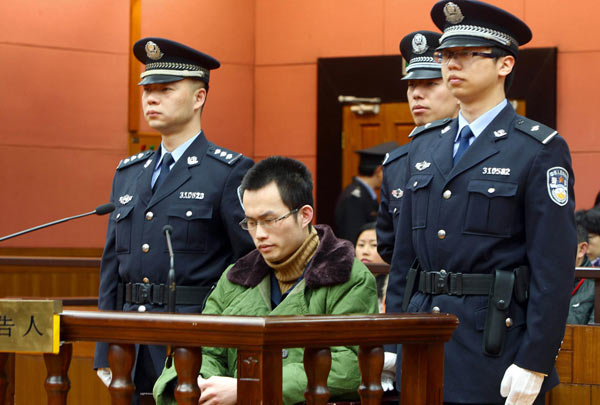 Lin Senhao stands trial at Shanghai No 2 Intermediate People's Court in this Feb 18, 2014 file photo. [Photo/Xinhua]
A local court in Shanghai has upheld the death sentence to Lin Senhao in connection to the deadly poisoning case at Fudan University.
Lin stood for his second trial in Shanghai last December.
Lin, a medical student at the prestigious Fudan University, allegedly used N-Nitrosodimethylamine, a deadly chemical compound taken from the university lab, to contaminate a water dispenser in his dormitory on March 31, 2013.
His roommate, Huang Yang, drank from the dispenser on April 1 and died of organ failure days later, despite doctors' efforts to save him.
Lin insisted that his motivation was that he wanted to play a trick during April Fool's Day.
Last February, Lin was charged with intentional homicide and he was sentenced to death after his first trial.
Lin appealed, insisting that the poisoning was intended as an "April fool's joke," rather than murder.
The case drew wide attention in China, prompting a nationwide outcry and soul-searching about the moral education of Chinese youth.