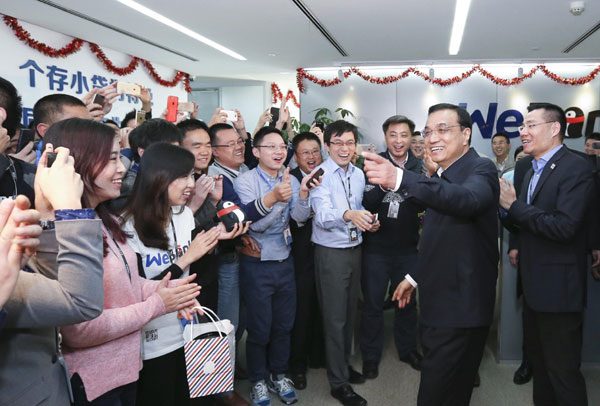 Premier Li Keqiang meets staff members of WeBank, China's first Web-based banking service, in Shenzhen, Guangdong province, on Sunday. DING LIN/XINHUA
Experts forecast more difficult decisions ahead as premier seeks to ensure country's prosperity
When Li Keqiang started his second year as premier in March, he said lessons from his past were helping to shape the country's future prosperity.
As a former village production leader during the planned economy, he said, he worked from early morning to night making plans to cover every detail, but it was tough going and the rewards were slim, as initiatives of farmers were then restrained.
More than three decades later, the production leader is the No 2 officer of the world's second-largest economy. He understands firsthand the value of market-oriented production, of rewarding those who show initiative and a willingness to work hard. His reform program aims to make the market the central pillar of the economy.
Restructuring the economy while avoiding a hard landing was Li's priority in 2014 and will continue to be in the years to come, said Zhang Chengfu, a public governance professor at Renmin University of China.
"The second year is vital in a term of five years. Hard decisions taken in the second year, despite how difficult they might be, will make it easier to carry through the follow-up," Zhang said.
He said the premier has achieved "an early harvest" with the massive reform package, with the focus now on excess production capacity.
But further steps, such as tackling the highly leveraged financial system and other deep-seated institutional problems, could be more difficult and will meet resistance, he added.
Cutting red tape and restricting government power, a mission at the "top of the agenda of this government", as Li put it, have energized businesses.
More than one-third of total government approval procedures have been scrapped or delegated to lower governments since March 2013, when Li was inaugurated.
As a result, more than 2.8 million new businesses have come into being since March 2014, an increase of 54 percent year-on-year. By September, 10 million jobs had been created.
Yet policies to restrict government powers, in addition to measures to fight graft, have "dampened the initiative of local officials to push through new projects to boost expansion", said Zhu Lijia, a professor at the National Academy of Governance.
In a rare media report published on the State Council's website, writer Fu Xu said Li "thumped the table" in front of ministers.
Some officials "would rather stand idle than do work to prevent making mistakes. ... They hold onto their posts but make only perfunctory efforts. Aren't they like deadwood?" Li was quoted as saying in the article.
Reform comes with a cost, especially for an economy already burdened by debt, shadow banking and other leftovers of the 2008 stimulus to hedge against the global financial crisis.
The economy slipped to a five-year low of 7.3 percent growth in the third quarter of 2014. In December, the HSBC preliminary-or flash-manufacturing purchasing managers' index fell to 49.5, indicating factory output had contracted for the first time in seven months.
Zhao Zhenhua, an economist with the Party School of the Central Committee of the Communist Party of China, said measures to curb overcapacity and deleverage shadow banking have led to declines in credit, and consequently the cooling of the steel, cement and property sectors, which in turn depressed industrial output and consumer purchases.
After closing down more than 13.9 million tons of iron smelting capacity in the northern heavy-industrial hub of Hebei province last year, central and local governments have stepped up efforts to curb surplus production and combat pollution.
On the financial front, the central bank has shifted its fiscal policy toward a more relaxed orientation, although market expectations for further loosening this year were weakened after the central bank widened the deposit base.
Zhao said the outlook for the economy in 2015 will largely depend on the endurance of leaders as they see declining GDP growth, and their determination to carry out reforms that were pledged in the roadmap at the Third Plenum of the 18th Communist Party of China Central Committee in 2013.
He said the Central Economic Work Conference, where policymakers discussed the policy orientation for 2015, agreed to make "stable growth the top priority".
"That is a message signaling a more relaxed environment," Zhao said. He said he believes that a relaxed macro environment is crucial not only to counter deflation but also to hedge against the austerity generated from structural reforms, anti-graft measures and stricter environmental protection.
"As China is restructuring its economy, it is unrealistic to expect as fast an expansion as several years ago. But on the other hand, it needs to stabilize growth in order to push ahead with reform, and, vice versa, to sacrifice growth for the sake of reforms."
"It is something like performing on the balance beam. You can't go too far either way. It requires boldness and technique, and is not always graceful," he said.