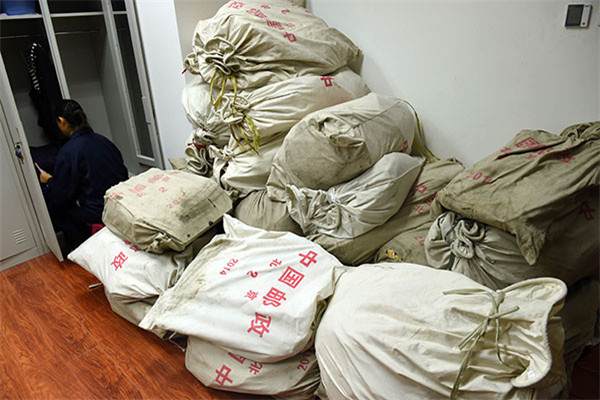 Bags of letters received by the CCDI's office of letters and calls in Beijing. [Photo/ CCDI website]
China's disciplinary watchdog recently revealed its procedure of handling complaints and petitions.
China's Central Commission for Discipline Inspection (CCDI) has published two series of photos on its new mobile app and its relaunched website that shed light on the process involved in dealing with people's petitions.
The first series published on Jan 1 features five photos that show piles of letters being received, sorted, opened, and read by mask-wearing officials and then being registered. One of the photos shows each letter being assigned a barcode to be easily traced.
A second series of photos published on Jan 2 shows the daily operations at the CCDI's office of letters and calls in Beijing, where people can visit to file their complaints.
Letters and calls serve as key sources of the agency's investigations, said Cui Shaopeng, CCDI's secretary general, in a press conference on Jan. 9, 2013. In 2012, petitions made through letters and calls accounted for 41.8 percent of the cases filed to the organization, Cui said.
The agency will soon reveal its process of handling complaints and tip-offs made through calls and Internet, Beijing Youth Daily reported.
The CCDI mainly handles public reports of discipline violations by CPC organizations and members, complaints from CPC members and officials who refuse punishment by disciplinary institutions, and suggestions for CPC party building and discipline supervision, according to a statement issued in September, 2014.
Petition undertakers should respond to real-name whistleblowers in accordance with relevant regulations after dealing with the complaints, the statement said.