China's revised law on pollution control allows a wider range of litigants to bring cases against government departments that neglect their duties. Cao Yin reports.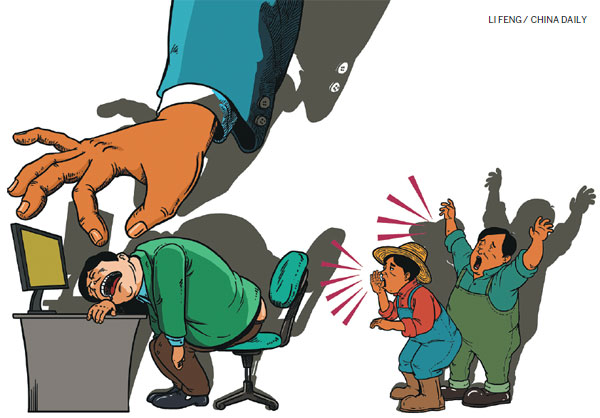 Legal experts are predicting a rise in the number of public-interest lawsuits brought by local procuratorates against environmental departments that fail to address pollution control or enforce laws designed to prevent environmental damage.
Under China's revised Environmental Protection Law, which came into effect on Jan 1 last year, local authorities, NGOs and related organizations were for the first time given the right to bring public-interest cases against provincial and lower-level environmental departments accused of incompetence. Before the new law, only individuals or residents' groups were allowed to bring cases of this type.
Last month, Wang Ruiping, a chief judge at Fuquan court in Guizhou province, handed down a ruling in the first case of its kind in Chinese legal history. The local procuratorate sued the environmental bureau in Jinping county, accusing it of ignoring water pollution caused by illegal discharges from local factories and also failing to enforce the relevant laws. Wang ordered the bureau to rectify its failings and ensure that the laws are enforced.
"It was not a complicated case because the facts were clear and there was compelling evidence. However, the importance of the case cannot be ignored because it was the first time that a prosecuting authority had acted as a litigant and lodged an administrative public-interest lawsuit under a pilot program," Wang said, referring to a trial project designed to give a wider range of litigants the opportunity to bring lawsuits against government departments.
Since the revised law, Chinese toughest-ever measure against pollution and environmental damage, took effect, NGOs have been given the right to bring civil public-interest cases, which has resulted in a rapid rise in the number of cases being heard by the courts.
A growing trend
Last year alone, courts nationwide heard 48 environmental public-interest lawsuits, but from 2007 to 2014 the number was just 65, according to statistics provided by the Supreme People's Court.
Three of the 48 cases were classified as "administrative" lawsuits, meaning local prosecutors sued environmental departments, which faced fines and court orders if found guilty. Wang Xuguang, deputy chief judge of the top court's environmental and ecological tribunal, said it's likely that many more administrative lawsuits will be brought.
In July, the Standing Committee of the National People Congress, the top legislative body, allowed prosecutors in 13 provinces and municipalities, including Guizhou, to initiate a two-year pilot program to encourage the growth of administrative public-interest cases, he said.
That means prosecutors can play a bigger role in supervising environmental departments by bringing public-interest lawsuits, he added. "Prosecution is a highly effective way of forcing environmental bureaus to perform their duties correctly. To them, it is a bigger threat than cases brought by NGOs," he said.
Luo Chaoguo, chief judge of the environmental and ecological tribunal at the Guizhou Provincial High People's Court, said the new legislation is proving effective and confirmed that the province has just accepted a second administrative environmental public-interest case.
"This new case has been brought by a prosecuting authority, which is accusing a township government of ignoring pollution caused by a local waste-disposal plant," Luo said.
The new legislation is piling greater pressure on environmental departments, and the pilot program has won the backing of the Ministry of Environmental Protection, which said it has ordered environmental bureaus at all levels to cooperate with procuratorates and to ensure adherence to the law.
"Every environmental bureau must deal with pollution rigorously and enforce the law. They must also identify loopholes in their supervisory duties and learn the lessons provided by the case details when they are published," according to a statement released by the ministry.
"As law enforcement departments, we must regulate our supervisory procedures ourselves and improve the transparency of our working models," it added.