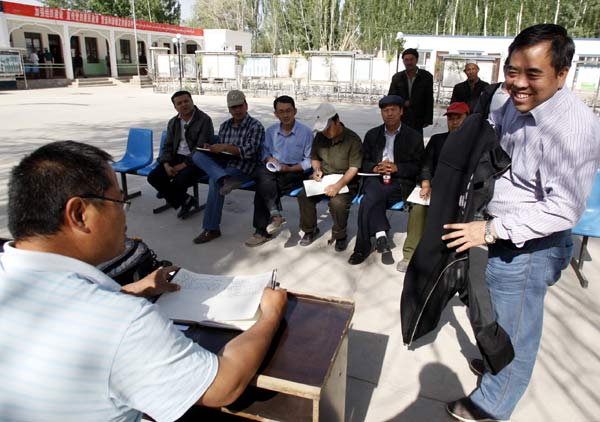 Cao Zhongjun (right) has a routine morning meeting with his team members in Chaqulak village in Tagarqi. Cao is the leader of a team of six regional-level offi cials currently based in the village. PHOTO BY ZHANG WEI / CHINA DAILY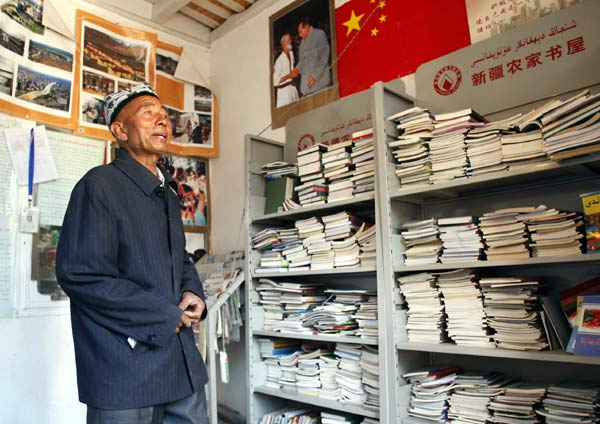 Kurban Umar in the small library he has opened at his home in Chaqulak. PHOTO BY ZHANG WEI / CHINA DAILY
In 2010, the police discovered several young people in Chaqulak reading illegal publications, which they confiscated. "Villages are on the frontline of the fight against terrorists, separatists and extremists. Educating people to stay away from illegal religious activities, such as having contact with extremists, actually helps to keep the region stable," said Zhou.
He said that when he's explaining about the law or government policies he always tries to avoid using big words and instead substitutes simple, but vivid, phraseology. "The people don't understand if you read straight from the official documents, and so I often make jokes during my public speeches to keep them interested."
"I thought they (the officials) would just come and then leave and wouldn't actually stay here because our village is so poor," said Tueson Imin, who had just been briefed on the latest developments in the plan to renovate the road. "But not only have they stayed, they are trying their best to help us.
"They are like friends to us and not at all like officials," said the 63-year-old, who was born in the village and has lived there all his life. "They gave me their mobile (phone) numbers and told me not to hesitate to call anytime."
Zhou said that he has grown to respect the villagers and looks up to them. "The most important thing about living with them is to understand how they think and how they feel. It's something all policymakers need to know. I have learned so much from them, such as the value of hard work, honesty and sincerity, so I never treat living in a poor village without clean drinking water as a hardship. I am here to serve the villagers."
Ediula, is known as a "three-doors" official, a synonym for "diligent." His daily routine runs like this: From the door of his home, he heads to the door of his office, from there he heads to the door of the canteen and from the canteen back to his home. Having been raised in a city, he had never been to a village before arriving in Chaqulak. "This experience will be of great benefit to me, not only in my career, but also in my life," said the 33-year-old official. "Coming to the village has given the officials and villagers a great opportunity to understand each other, and that's the foundation of trust."
Mao Weihua contributed to this story.
Contact the reporter at cuijia@chinadaily.com.cn