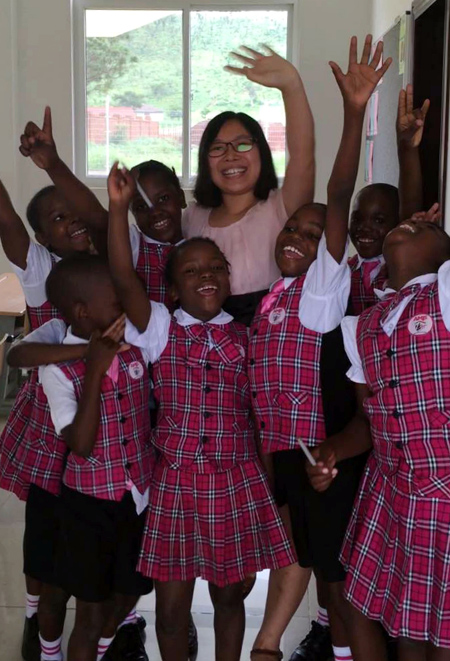 Hao Xin says her students at Amai Mugabe School are passionate about learning Mandarin. China Daily
One of the teachers, Hao Xin, said Chinese has become a popular choice.
Grace Mugabe decided to learn Chinese in 2007 when she noticed the ever-strengthening ties between the two countries.
She earned a bachelor's degree in Chinese from Renmin University of China in 2011, and while studying in Beijing, she learned a lot about Chinese culture and even became acquainted with traditional Chinese musical instruments.
Seeing the need for cultural exchanges between the two countries, Mugabe proposed that the Chinese government should send people to teach Chinese at her school.
Patrick Chitambo, the headmaster of the primary school, said language will be very helpful to students in the future, since it can be used in many projects undertaken between the two countries as ties grow stronger.
"With more students choosing to go to China, learning this language since primary school will be a big advantage for them," he said."When they finish learning Mandarin here, they will be well equipped with strong academic qualifications to proceed in their studies to upper degrees and even to China."
Before coming to Zimbabwe in January last year, Hao, the teacher, had taught Chinese to foreigners for 10 years after finishing graduate studies in Chinese language teaching.
Her students in China were all adults, so it was a huge challenge at first to teach primary school students. However, she said, students at the school in Zimbabwe are enthusiastic and passionate about learning Mandarin.
"They are quite active in the class, and you will find huge differences between adult students and kids. Adults see the world with their own fixed perspective and sometimes even prejudice, but children are curious about the world," she said. "So we hope to open a new window to them to understand the world by learning a new language."
By learning Chinese, misunderstandings will be reduced and cooperation will be improved, especially because students will have a more comprehensive understanding of Chinese culture when they grow up, Hao said.