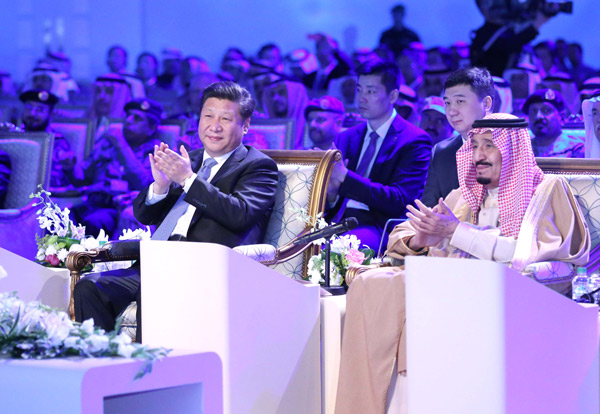 Chinese President Xi Jinping (L front) and Saudi King Salman bin Abdulaziz Al Saud(R front) inaugurate the operation of the Yasref oil refinery, a joint venture between Saudi Aramco and China's Sinopec in Riyadh, Saudi Arabia, Jan 20, 2016. [Photo/Xinhua]
LIFTING BILATERAL TIES
Reviewing his state visit to Saudi Arabia, Xi said that he was satisfied with the fruitful outcomes, including upgrading bilateral ties and establishing a high-level steering committee for coordinating bilateral cooperation.
Xi held talks with King Salman upon his arrival on Tuesday, and the pair decided to lift bilateral ties to the comprehensive strategic partnership.
"I believe it will deepen the mutual strategic trust, lead to greater achievements in our mutually beneficial cooperation, and help facilitate and broaden our shared interests in international and regional affairs," Xi said on the upgrading of bilateral ties.
The two sides signed a memorandum of understanding on industrial capacity cooperation, agreeing to pursue cooperation under the Belt and Road Initiative, as well as a slew of cooperation deals covering sectors such as energy, communications, environment, culture, aerospace, and science and technology.
China and the GCC also announced that they are committed to working closely to conclude a comprehensive free trade agreement (FTA) within 2016.
During Xi's talks with King Salman, the two leaders welcomed the restart of the China-GCC FTA talks, saying they were "delighted" to see the substantive progress that has been made.
China and the GCC, which includes Bahrain, Kuwait, Oman, Qatar, Saudi Arabia and the United Arab Emirates, began their FTA talks in July 2004, and the process was suspended in 2009.
The two countries also, in a joint statement, made clear their common stances on such regional affairs as Palestine, Syria, Yemen, counterterrorism and the building of a nuclear weapons-free Middle East.
This is the first state visit by a Chinese president to Saudi Arabia in seven years. After leaving Saudi Arabia, Xi Jinping arrived in Cairo on Wednesday for a state visit to Egypt, the second leg of his three-nation Middle East tour which will also take him to Iran.