China, Saudi Arabia affirm length and breadth of alliance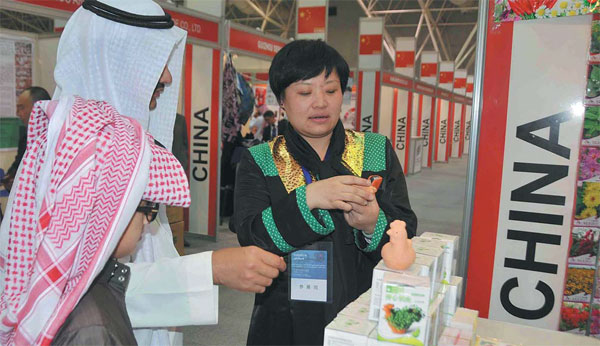 Visitors inspect Chinese products at a recent Chinese commodities expo held in Riyadh, the capital of Saudi Arabia. Photos Provided to China Daily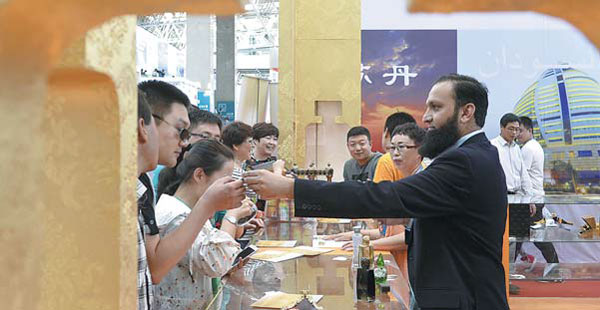 A Saudi businessman offers perfume samples to Chinese visitors at the China-Arab States Expo held in Yinchuan, Ningxia, in September 2015.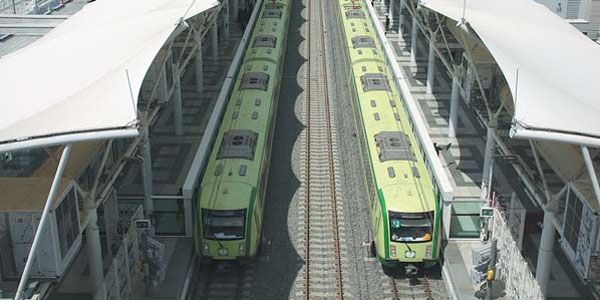 Two light rail trains stop at the holy city of Mecca in Saudi Arabia in October 2014. The city railway, which started operation in 2010, was built by China Railway Construction Co.
Respect, trust, cooperation benefit residents of both countries
Twenty-six years after China and Saudi Arabia established diplomatic relations, the countries are advancing in a range of strategic initiatives to benefit both their residents and those of the Eurasian landmass.
Strategic cooperation between the two on the economic front, marked by top-level exchanges and agreement, have picked up speed over recent years.
Saudi Arabia is a founding member state of the Asian Infrastructure Investment Bank, which was first proposed by China. President Xi Jinping attended the opening ceremony of the bank in Beijing on Saturday.
In addition, a joint statement between China and Saudi Arabia released in 2014 clearly pledged their commitment to cooperating to build the Silk Road Economic Belt and 21st-Century Maritime Silk Road - the two parts of the Belt and Road Initiative launched by Xi in 2013.
During his visit to Saudi Arabia and a series of meetings with senior officials from Jan 6 through 8, Vice-Foreign Minister Zhang Ming said China "has consistently viewed the China-Saudi Arabia relationship from a strategic perspective and with long-term vision".
The senior diplomat stated China's readiness to begin cooperation in production capacity with Saudi Arabia within the framework of co-building the Belt and Road.
In its response, Saudi Arabia said it is willing to become China's partner in building the Belt and Road, which is expected to reinforce collaboration in fields such as energy, trade and infrastructure.
Top-level exchanges between the two countries have been smooth and frequent, and this has led to a robust growth of mutual political trust.
Early in 2014, Xi hailed Saudi Arabia as "China's good friend, brother and partner" in the Middle East and Gulf region when meeting with then Crown Prince Salman Bin Abdulaziz Al Saud when the now king visited Beijing.
Foreign Minister Wang Yi has attributed the fast development of the countries' ties to three key factors - mutual respect and trust, mutually beneficial cooperation and the friendship between the two peoples.
"Although China and Saudi Arabia have differing histories, cultures, social systems and development paradigms, they have always treated each other equally and paid respect and trust to each other, which has ensured the bilateral relationship has advanced in the right direction," Wang said in an interview with Saudi media in 2014.
In April 2015, Xi and the Saudi king talked by phone, and Xi said the rapidly developing relationship between China and Saudi Arabia has "become one of the important bilateral ties in their respective external relations".
Within the context of the complicated and ever-changing current international and regional situations, it is necessary for the two countries to deepen cooperation in all fields, Xi said.
Salman said he and the Saudi government attach great importance to the further development of relations between the countries, and will promote strategic cooperation between the two to lift their bilateral relations to a new level.
Surging trade volume
On the trade front, Saudi Arabia remains China's leading global supplier of crude oil and largest trading partner in the Gulf region, and China has become the largest trading partner of Saudi Arabia.
The trade volume between the countries has surged rapidly from $290 million in 1990 to $69.1 billion in 2014.
China's main exports to Saudi Arabia are clothing, mechanical and electronic products and textiles, while China mainly imports crude oil, liquefied petroleum gas and primary plastics from Saudi Arabia.
In the first half of 2015, crude oil exports from Saudi Arabia to China reached 26.3 million metric tons, a year-on-year increase of 9.2 percent, according to China's ambassador to Saudi Arabia, Li Wencheng.
Two-way collaboration in boosting the innovation of science and technology is also underway.
On Sept 11, 2015, a signing ceremony was held in Yinchuan in the Ningxia Hui autonomous region to co-build a technology-transfer center between the two countries.
Xinhua contributed to this story.
zhangyunbi@chinadaily.com.cn
(China Daily 01/20/2016 page10)
Today's Top News
Editor's picks
Most Viewed