Leaders of political parties get a firsthand look at what increased ties between China and Europe would signify
With a long whistle, a train left the station in Central China's Zhengzhou city to the applause of dozens of European leaders on May 20.
The Zhengzhou-Europe International Block Train takes 10 days to travel 10,214 kilometers across six European and Asian countries and to deliver Chinese goods to Hamburg, Germany, from where the cargo reaches other parts of Europe. Then it turns around and carries European goods back to China. It has operated since 2013.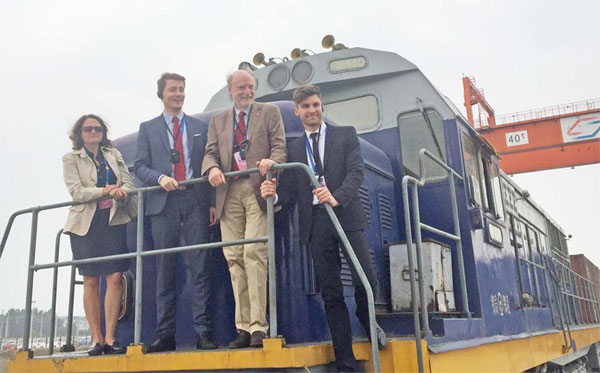 European representatives at the Zhengzhou-Europe Block Train during their visit to Zhengzhou, the capital of Henan province. Chen Yingqun / China Daily
The European well-wishers were from more than 30 political parties from 24 countries, regional political parties and political groups in the European Parliament. They were in China attending the fifth China-Europe High-Level Political Parties Forum in Beijing.
One of the reasons for their enthusiasm is that the train is a tangible example of the opportunities to draw the regions together, such as China's Belt and Road Initiative and green development, as discussed at the forum.
The Zhengzhou-Europe Block Train is one of the most important transportation links of the Belt and Road Initiative. The train makes the trip to Hamburg three times a week. More than 50 companies from countries along the way are using the train to transport goods, says Zhao Wenming, general manager of the Zhengzhou International Hub Development and Construction Co Ltd, which runs the service.
The initiative encompasses the Silk Road Economic Belt and the 21st Century Maritime Silk Road, which use investment and trade to link China, Europe and other areas.
During their visit to Zhengzhou, the capital of Henan province, the European delegates attended the Economic and Trade Dialogue of the China-Europe political parties forum.
Zhao Jiancai, vice-governor of Henan province, says Europe is one of Henan's most important trade partners. Last year, their bilateral trade volume was $7.5 billion. During the first quarter of this year, bilateral trade exceeded $2.4 billion, double that of the first quarter of 2015.
"Moreover, bilateral investment is also pushing forward, and both sides' exchanges and cooperation in technology, education, culture, tourism, finance and agriculture also have great potential," he says.
Zhengzhou has opened air passenger routes and 32 cargo airlines to seven cities in the European Union such as Frankfurt, Amsterdam and Milan.
Henan is a dynamic and innovative part of China, with more than 12,000 new businesses registered every day, Zhao says. The province has seen great developments in emerging industries such as electronic information, equipment manufacturing, bioenergy and new energy cars.
Last year, the province's smartphone output exceeded 200 million units, about one seventh of the world's production. The province produced some 21,000 new energy cars, the largest number in China.
Henan's exports to Europe mainly consist of cellphones, tires, steel, bags and suitcases, garments, chinaware and auto parts, and its imports from Europe are mostly iron and copper ore, metalworking machine tools, integrated circuits and microelectronic components, and cosmetics.
More than 300 EU companies are investing in Henan, while companies in the province have increased their investment in the EU to $700 million, says Jiao Jinmiao, director of the Henan Provincial Commerce Department.
Du Junfu, president of Shuanghui Group, China's largest pork producer, says it does business in more than 40 countries, and earned a revenue of $21.2 billion last year. In Europe, the company has eight pork processing factories in Poland and one in Romania, and combined annual sales of about $1.4 billion.
"In the past 20 years, we have been involved in Europe's agricultural development and cooperation. Europe has advanced agricultural technology, rich natural resources and good products and equipment, but they need external markets, while China has the largest market but lacks resources and needs importation of products. These differences in the two markets complement each other," Du says.
The EU leaders expressed great interest in the goods that had just arrived in Zhengzhou from the EU, including wine and milk, as well as the different types of buses exported to Europe by the Yutong Group, a conglomerate based in Zhengzhou.
Catherine West, foreign secretary in the British Labour Party's shadow cabinet, says the United Kingdom is interested in working with China on green technology and increasing exports to China.
"I think (British) products that will attract the Chinese market are high-tech products, and a lot of creative industries," she says.
Manfred Grund, chairman of the CDU/CSU parliamentary group of Germany, says he is especially interested in Zhengzhou's new technology in producing electric cars. The group is the political alliance of the Christian Democratic Union of Germany and Christian Social Union in Bavaria.
Grund says Germany and all of Europe is talking about how to improve transportation and increase green technology in the auto industry, and there is potential in this sector for collaboration between China and Europe.
chenyingqun@chinadaily.com.cn