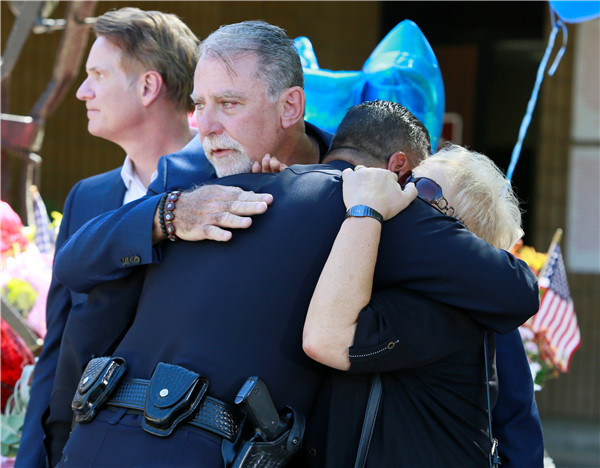 Palms Springs Police Chief Bryan Reyes is hugged by city council members J.R. Roberts and Ginny Foat, after he spoke at a news conference, following the Saturday shooting deaths of two of his officers, at police headquarters in Palm Springs, California, Oct 9, 2016. [Photo/Agencies]
WASHINGTON - Three separate shootings that happened in the United States over the weekend killed three people and left 10 others injured.
According to Fox News, a shooting during a party at a mall in Michigan early Sunday killed one and wounded eight others. A suspect is being hunted by local police.
Police spokesman Terry Dixon told reporters that the injured victims suffered injuries with different "degrees of severity," but none was life-threatened.
Another shooting was reported by Boston branch of US TV broadcasting group CBS on Sunday.
A nine-year-old girl was shot while playing outside with other kids during a party around 1 a.m. Saturday.
Police said the girl was rushed to hospital without life-threatening injuries, the Boston CBS reported.
Local residents however were worried about their own safety as it's not the first time that a shooting occurred in the community.
The attackers in both cases were at large.
Also on Saturday, two police officers were killed in Palm Springs, 170 km east to Los Angeles. The suspect gunman who also wounded another police officer was arrested early Sunday.
The abuse of gun has been a serious problem haunting US society for a long time.
The latest data from the National Law Enforcement Officers Memorial Fund showed that the number of police officers killed in the United States was 102 to date in 2016.
Meanwhile, the Washington Post reported that 715 people had been shot dead by police in 2016.