Earlier this year, an anonymous tweet titled "Do we still need so-called community leaders?"caused a stir among Chinese Americans. The author claimed that "community leader" is an outdated concept,and we don't need to follow the leader any more.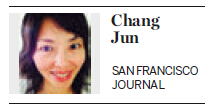 Supporters believe community leaders used to play an important role in guiding the off-the-boat immigrants to better assimilate to the new environment.
Several decades ago, resources were limited, and many of the immigrants had to start from scratch as laborers to survive.
Now, a majority of the immigrants are well-educated individuals who are more independent and cherish the value of critical thinking. They don't need anyone to tell them to do anything in the name of compatriotism and ethnical bonds.
However, opponents of this claim said that in order to unite overseas Chinese, someone must take the initiative to organize activities, sponsor events and raise awareness so that they maintain access to their Chinese heritage.
Ultimately, they would be more likely to appreciate Chinese culture and civilization and feel proud of their ancestors and roots.
He Konghua is such an initiator and community leader.Like many grassroots Chinese American community leaders,He believes overseas Chinese Americans should help refine the China-US relationship and promote bilateral understanding between peoples of the two world's largest economies on several fronts - China-US cultural exchanges, the Cross-Straits relationship between the Chinese mainland and Taiwan, and people-to-people exchanges.
The chairwoman of the Greater China Women's Association, a board member of the All-China Federation of Returned Overseas Chinese and a founding member and vice-president of Chinese for Peaceful Unifi cation-Northern California, He for 20 years has been orchestrating "China Night", a variety show celebrating China's National Day Holiday on Oct 1, in the Bay Area.
This year, she and her team of volunteers spent four months putting together a three-hour program and presented it on Sunday at the Visual and Performing Arts Center at Chabot College in Hayward.
At 7 pm, the lights faded as the curtains opened. The audience waited in silence. When a young girl about 10 years old in a red dress fi nished her last note of a Chinese classic lyric, Ode to the Red Flag, the crowd of 1,500 broke into thunderous applause.
In a turquoise suit, He walked onto the stage to give her heartfelt thanks to the audiences and her supporters.
"It's not an easy job to continuously organize an annual event on this scale for 20 years," He said. "However, I'm prompted by the inner urge, as a Chinese immigrant to the US, that I should take this opportunity and use the Chinese National Day as a topic to help boost the China-US friendship and understanding."
Through the China Night platform, overseas Chinese can actively integrate into American mainstream society, learn to respect local customs and get along with people of other races.
"We actually showcase our capacity to promote the social and economic development of the local communities," she said.
With outreach to other communities,"we not only popularize the Chinese culture,deepen American people's understanding about China, but also help consolidate public support for the China-US relationship",He said.
Luo Linquan, Chinese consul general in San Francisco,applauded the contributions the China Night team has made.
"The China-US relationship is one of the most important bilateral relations in the world,and each and every overseas Chinese should help sustain the strong bilateral momentum," the ambassador said in his speech."May the China-US tree of friendship [be] evergreen!"
Contact the writer at junechang@chinadailyusa.com