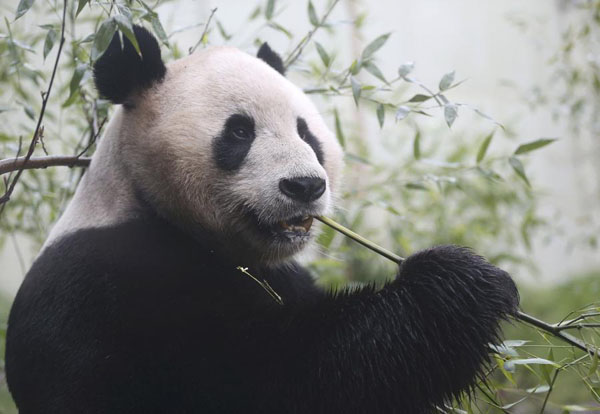 Tian Tian, a giant panda eats bamboo in the outdoor enclosure at Edinburgh Zoo ,Scotland April 12, 2016. The Royal Zoological Society of Scotland and Royal Botanic Garden Edinburgh will perform research into the complexity of the panda diet. [Photo/Agencies]
UK's only female giant panda, Tian Tian, again failed to give birth, making it fourth year in a row, according to her handlers at Edinburgh Zoo.
The Zoo said the animal's hormone levels and behavior indicate that she has reached the end of her breeding cycle.
Tian Tian, which means Sweetie, and male Yang Guang (Sunshine) arrived at the zoo in 2011 as part of a 10-year agreement on panda conservation signed by China and the UK.
The previous pandas in the UK, Ming Ming and Bao Bao, left a zoo in London in 1994 after failing to mate.
Iain Valentine, director of giant pandas at the Royal Zoological Society of Scotland, said "Our excitement is tinged with sadness, however, as it now appears clear that Tian Tian, our resident female giant panda, will not give birth to cubs this year.
"Tian Tian's hormone levels are returning to normal and her behavior signals the end of her breeding cycle for this year," Valentine said "Over the next few weeks we will conduct a thorough review of the scientific data and our processes to ensure we learn from this year's breeding season."
After attempts to get Tian Tian to mate with Yang Guang, she was artificially inseminated. It was attempted for the fourth time this year, and she was thought to have conceived.
Despite her showing apparent signs of pregnancy, she has failed to produce a cub again.
Mating in captivity had long been a challenge for the pandas, followed by equally difficult pregnancies and challenges in the care of newborn cubs, researchers said.
It is common for giant panda females to re-absorb a fetus into the womb in the late stages of pregnancy, and experts suspect that may have been the case with Tian Tian.
To contact the reporter: wangmingjie@mail.chinadailyuk.com