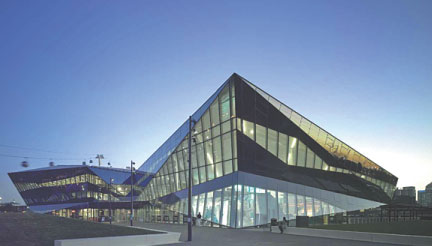 The Crystal building at Royal Victoria Dock, London, is providing exhibition space for the design fair. [Photo/China Daily]
A design fair marking Chinese and British architecture links is being staged at London's Royal Victoria Dock to showcase collaborative works by 11 British and Chinese companies.
The China Britain International Design Week, for the second year running, opens at a time of booming bilateral collaboration in architecture. This is supported by China's rapid urbanization and Chinese investment in the UK infrastructure and construction.
"China and the UK have a long history of mutual architectural influence, and this is growing fast," said Max Farrells, a partner at British architecture firm Farrells.
He said British architectural companies that understand China's city landscape are well positioned to help their Chinese clients expand into the UK.
Examples include Chinese property companies Dalian Wanda and ABP's London investment, which relies on working with local architects.
British architects are also taking Chinese experiences to their home market, Farrells said. For example, his own team's experience in designing high-speed rail terminals at Guangzhou South Railway Station and Beijing South Station will become useful for the design of some stations on the UK's High Speed 2 project.
Roger Howie, an associate at Zaha Hadid Architects, said bilateral collaboration on architecture also includes talent cultivation, technical and engineering collaboration, and supply of materials. Howie's company has completed six projects in China, including the New Century City Art Centre in Chengdu, one of the country's largest cultural buildings.
Howie said the company is increasingly employing Chinese architects in its London office. "Each time we visit China, we feel the enthusiasm, ambition, and energy of the upcoming generation, who have embraced the future with confidence-yet not forgotten the past."
Chun Qing Li, founder of the design fair, said the two-day event, on Monday and Tuesday, aims to attract about 1,500-2,000 visitors, including industry practitioners and the public.
He said the fair's key aim is to showcase strong and innovative designs in China to the British public, and he hopes this will secure more bilateral design deals.
This year's fair includes a conference exploring how British and Chinese companies can collaborate on smart cities-a concept that has grown in recent years and which focuses on using technology and automation to make city living more sustainable.
A milestone in bilateral collaboration was achieved in 2007when the government-backed UK-China Sustainable Cities Initiative was launched. UK firms have already secured contracts worth more than 40 million pounds ($61 million) to support China's sustainable urbanization programs, according to British government figures last year.
Mark Jenkinson, London city director of Siemens, said the UK and China are well suited for smart cities collaboration as both governments have the requisite policies, and significant population growth in the two countries is highlighting issues that require smart cities technology.