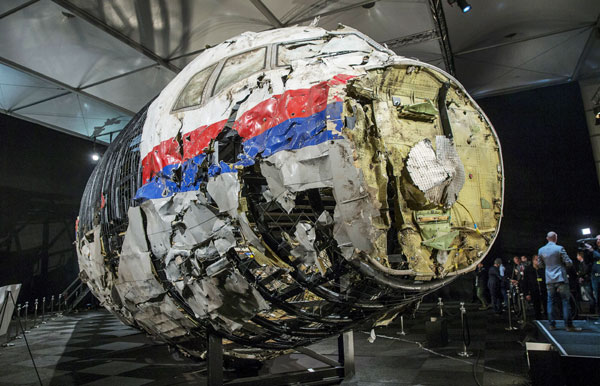 The reconstructed wreckage of the MH17 airplane is seen after the presentation of the final report into the crash of July 2014 of Malaysia Airlines flight MH17 over Ukraine, in Gilze Rijen, the Netherlands, October 13, 2015. [Photo/Agencies]
KUALA LUMPUR -- Malaysian Prime Minister Najib Razak has called for firm action against the perpetrators in the downing of flight MH17, saying "we have promised that those who were responsible will be brought to justice."
Following the release of an investigation report on the tragedy on Wednesday, Malaysia's national state news agency Bernama quoted the prime minister, who is on an official visit to Germany this week, as saying that "The families want justice. So we will pursue this."
According to Najib, Malaysia will call for a meeting with the other countries which lost their citizens, namely the Netherlands and Australia, to decide the next course of action.
"We must see to it that those responsible are punished," he said.
Malaysia Airlines MH17 crashed in eastern Ukraine on July 17, 2014 while flying from Amsterdam to Kuala Lumpur. All 298 people on board died, most of them Dutch citizens.