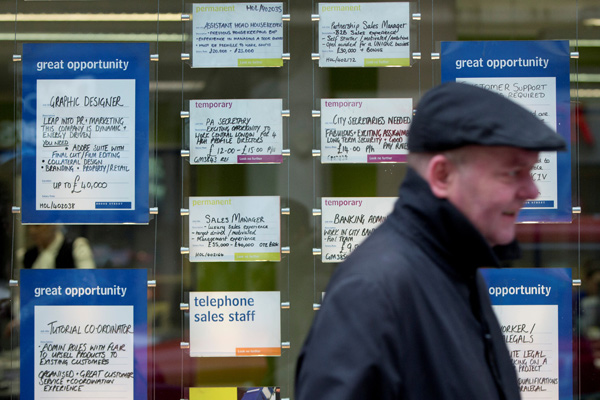 A man walks past job advertisements in the window of a recruitment office in central London. [Photo/Agencies]
Britain's labor market shows little sign of having taken a hit immediately after the country's Brexit vote, as the unemployment rate held steady and job creation rose in the three months to July, according to official data.
But growth in wages slowed, possibly a sign of tougher times ahead for households especially as they face the prospect of higher inflation with the post-vote fall in the value of the pound pushing up the cost of imported goods.
The number of people in work rose by 174,000, taking the employment rate to a new record high of 74.5 percent, the Office for National Statistics said on Wednesday.
The data, which pushed up the value of pound against the US dollar and the euro, follows previous signs that the labor market has largely weathered the initial shock of the referendum decision to take Britain out of the European Union.
In July, based on a smaller and less representative sample of respondents than the main three-month measure, the jobless rate fell to 4.7 percent, the lowest since 2005.
JPMorgan economist Allan Monks said the figure could augur a decline in the main unemployment rate in the months to come, something which would be celebrated by the pro-Brexit wing of the ruling Conservative Party.
However there were some signs that the labor market was losing steam, he said.
Analysts noted that an August rise in the number of people claiming unemployment benefits could signal a more pressured jobs market after Britain's referendum result in favor of exiting the European Union.
The number of unemployment benefit claimants-considered a potential early warning sign of an economic downturn-rose by 2,400 to 771,000 in August.
And lower hiring by companies in some bellwether sectors could be "cracks in the ice" of the country's labor market, a survey of employers suggested on Tuesday.
The Bank of England has signaled a likely further cut in interest rates in November, although some economists say the run of relatively strong economic data may cause it to think again.