Result affects financial markets immediately, with pound plunging to 30-year low against dollar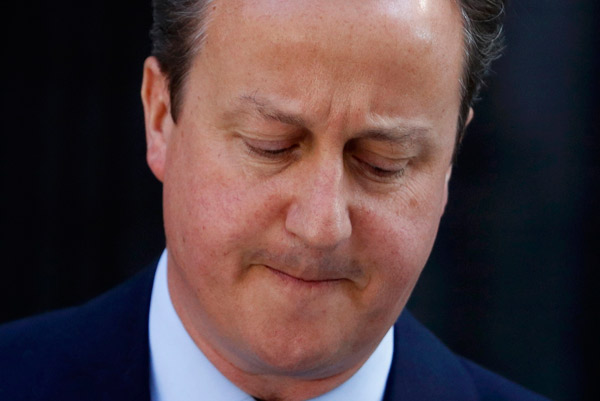 David Cameron, British prime minister, announcing that he will resign in three months
A day of political drama unfolded in Britain on Friday, after voters chose to leave the European Union and Prime Minister David Cameron announced that he will resign.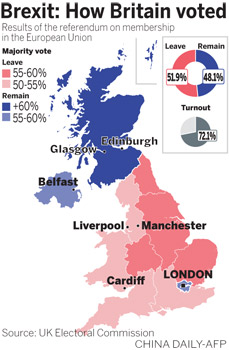 The historic decision to leave the EU, which will have far-reaching repercussions, both domestically and internationally, immediately plunged the 28-member bloc into its worst crisis since its founding.
Cameron's bombshell came shortly after 8 am London time, when he announced he would step down in three months to allow a new prime minister to handle the complex negotiations surrounding Britain's departure.
The new leader will be the one to trigger Article 50, which will formally set the UK departure in motion over a two-year period.
The Leave campaign, headed by former London Mayor Boris Johnson, took 52 percent of the vote to the 48 percent gained by the Remain campaign, headed by Cameron. The British Broadcasting Corp said that 72 percent of the electorate voted after a campaign that was at times acrimonious.
The result had an immediate effect on the financial markets, with the pound plunging to a 30-year low against the US dollar, while the euro, Europe's single currency, slid 3 percent against the US currency.
Mark Carney, governor of the Bank of England, went on television to reassure investors, saying the bank would do whatever was necessary to maintain confidence and stability.
"To be clear, the Bank of England will not hesitate to take additional measures as required, as markets adjust and the UK economy moves forward," he said.
Reaction to the vote to leave was immediate.
While maverick UK Independence Party leader Nigel Farage, a fervent anti-EU campaigner, proclaimed June 23 as Independence Day for the UK, others were shocked.
"Never in a thousand years would I have believed that the British people would have voted in this way. This is catastrophic for our country," said Keith Vaz, a Labour member of parliament who is chairman of the Home Affairs Committee.