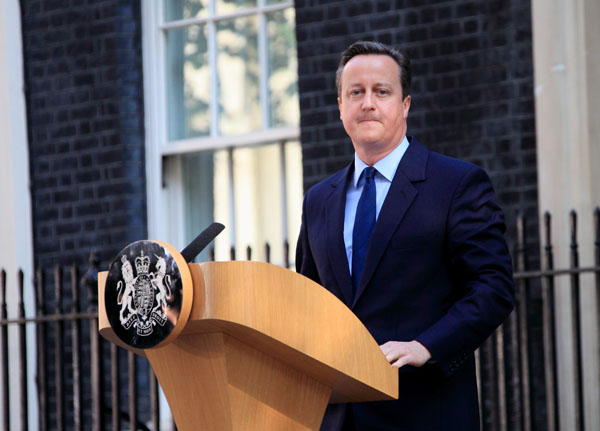 Britain's Prime Minister David Cameron speaks after Britain voted to leave the European Union, outside Number 10 Downing Street in London, Britain June 24, 2016. [Photo by Jiang Shan/China Daily]
After his referendum campaign failed to deliver a decision for the UK to remain in the European Union, David Cameron fell on his sword on Friday, saying that Britain will have a new prime minister in a matter of months.
Cameron was joined by his wife Samantha outside his residence at 10 Downing Street on Friday morning where he delivered a brief but emotional speech.
"The British people have voted to leave the EU and their will must be respected," he said. "The will of the British people is an instruction that must be delivered. I do not think I can be the captain to take the country to its next destination. In my view I think we should have a new prime minister in place by the start of the Conservative Party conference in October."
Cameron added that it would be up to the next prime minister — whoever that may be — to decide when to notify the European Council about the UK's intention to exit the EU, triggering Article 50 of the Lisbon Agreement. This is a notification from the EU to the President of the European Council saying that a nation wishes to leave the union.
Members of parliament took to social media to express their views on Cameron's decision to stand down.
"I don't believe it. Cameron standing down," Conservative MP Mark Garnier wrote on Twitter. "The last thing we need is the uncertainty of a leadership challenge."
Labour MP Diane Abbott's comments were more biting: "Cameron signals his exit just after he splits the country in two. What a legacy."
Conservative MP Michael Fallon told the BBC that it was the "honourable thing to do" as Cameron had "lost the argument".
Bookmakers Paddy Power put former London mayor and leader of the Leave campaign Boris Johnson as the 11/8 favourite to replace Cameron as the next prime minister. Johnson is followed in the odds by Home Secretary Theresa May (2/1) and Conservative MP Michael Gove (6/1). The pair flanked Johnson on the Leave campaign trail.
Having unwillingly led the United Kingdom out of the European Union, Cameron used his speech to remind people about other parts of his legacy.
"I'm very proud and very honored to have been Prime Minister of this country for six years," he said. "I believe we've made great steps, with more people in work than ever before in our history, with reforms to welfare and education, increasing people's life chances, building a bigger and stronger society, keeping our promises to the poorest people in the world and enabling those who love each other to get married whatever their sexuality, but above all restoring Britain's economic strength."