Following a strong recommendation from my dearest friend in China, I went to see the movie Warcraft at an AMC theatre last Saturday at 8:30 pm, only to find the theater about 30 percent full - or 70 percent empty - depending on how you want to look at it.
What gives? Shouldn't it have been more crowded on such a delightful weekend night for such an expensive Legendary production of Duncan Jones' adaptation of Blizzard Entertainment's real-time strategy game, which has been known to cause global mania?
The truth is, Warcraft, released in China on June 8, two days before the US release, had so far yielded more than $200 million in the world's most populous nation as compared to a modest $50 million domestically.
China is currently pushing for an annual 30 percent increase in homemade films due to a rapidly growing middle class that cherishes the leisure lifestyle and Western culture.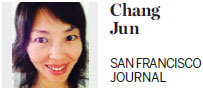 According to one report, the entertainment industry in China has seen an explosive growth rate of 17 percent year to year from 2010-15, a much faster pace than the overall economy.
Average disposable income in China has grown from $760 per person in 2000 to $5,000 in 2015, producing strong market demand for entertainment products like movies, games and music.
Hollywood movies have suffered from shrinking support from domestic exhibitors, advertisers and social media, while China's box office in the past few years has grown into the largest offshore territory for most films, and is expected to overtake North America in 2017.
Will the strong market demand and reliable revenue in China help American studios survive the downturn in the US movie industry and return to its peak?
Maybe, if they play the game strategically with a win-win mindset, like Legendary did.
Deemed the most financially successful video game adaptation to date, Warcraft tapped into the Chinese movie industry's tremendous potential by forging a strategic partnership with local investors and distribution channels.
Over the years, Legendary cemented relationships with four key stakeholders - Tencent, China Film Group, Taihe and Huahi, a structure it set up even before Wanda completed its acquisition of the Burbank-based studio for $3.5 billion in January.
Undoubtedly, Wanda has played a key role in helping publicize and market Warcraft through its own channels - its 18 percent ownership of 39,000 Chinese cinemas and theatres - to help it achieve a wide release.
Understanding local Chinese culture definitely helps, as well.
China is one of the biggest markets for Blizzard Entertainment's Warcraft game. Chinese gamers are estimated to make up about half of its 5 million players worldwide. On the web, players exploit a lush landscape and instantly interact with other gamers. They have even given the game a Chinese name: "World of Magic Beasts."
To tap into the nostalgic sentiment of the 2.5 million Chinese gamers, Legendary also launched an 18-month-long publicity campaign to stir up fans' enthusiasm and lure them out for Warcraft's release night.
A shrewdly-selected release date also contributed the marketing coup. Shown on June 8, Warcraft was warmly received by hundreds of thousands of Chinese college-entrance-exam takers who had just completed three-days of agony and were up for a break.
The date also coincided with the three-day Dragon Boat Festival holiday, when people all over look for fun things to do.
All these Chinese elements - Chinese partners and assimilation into the Chinese culture - are believed to have helped Warcraft earn its success.
Maybe Hollywood should try a little "marketcraft" of their own.
Contact the writer at junechang@chinadailyusa.com.