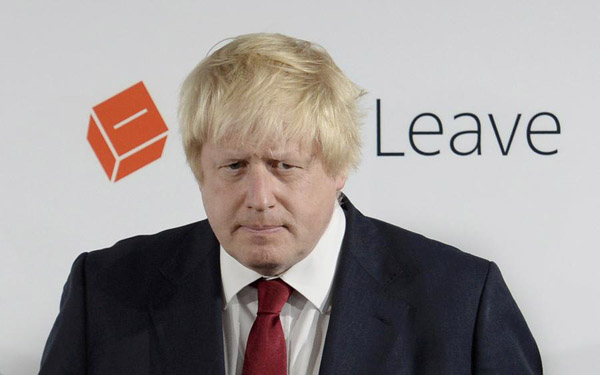 Vote Leave campaign leader Boris Johnson prepares to speak at the group's headquarters in London, Britain June 24, 2016. [Photo/Agencies]
Former London mayor Boris Johnson said Friday the UK will find its "voice in the world again" now the British public voted "out" in the EU referendum, while Scotland's First Minister Nicola Sturgeon said a second Scottish independence vote is "highly likely."
At a Leave campaign press conference held Friday morning, conservative MP Michael Gove emphasised there were no plans to rush the process of the UK's disengagement from the European Union, and Johnson agreed with Prime Minister David Cameron's recommendation to hold off for now on invoking Article 50 of the Lisbon Agreement.
Minutes later, Sturgeon said it would be democratically unacceptable for Scotland to exit the EU, given Scotland voted 62 percent to 38 percent in favour of remaining in the union in Thursday's referendum.
"We said clearly we don't want to leave the European Union," Sturgeon said at a press conference in Edinburgh on Friday, and indicated that she planned to move toward Scotland holding a second vote on its independence. Scotland held a referendum in 2014 with 55.3 percent of the country voting against independence.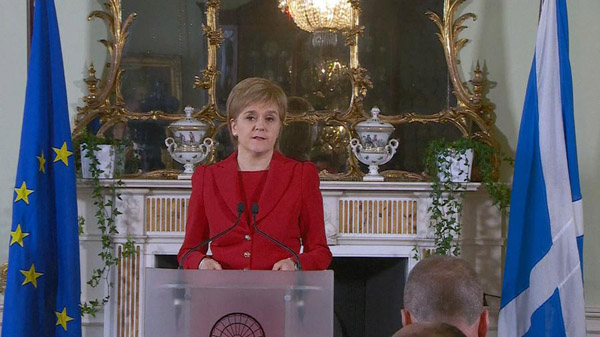 A still image from video show Scotland's First Minister Nicola Sturgeon speaking following the results of the EU referendum, in Edinburgh, Scotland, Britain June 24, 2016.  [Photo/Agencies]
In London, Boris Johnson began by paying tribute to David Cameron, who announced Friday morning he would be stepping down as prime minister, saying he was sad to hear the news but that he "respects the decision."
"I've known David Cameron for a very long time and I believe he's been one of the most extraordinary politicians of our age — a brave and principled man who's given superb leadership of his party and his country for many years."
Johnson addressed criticism that this decision should never have been given to the public via a referendum.
"Some people are saying that it was wrong and that the people should never have been asked in this way — I disagree. I believe it was entirely right and inevitable," he said. "It's about the right of the people of this country to settle their own destiny."
Johnson — who odds makers have as the favourite to replace Cameron as prime minister — went on to say there was "simply no need" for Britain to be part of a "federal system of government based in Brussels that is imitated nowhere else on earth."
"[Out of the EU] We can pass our laws and set our taxes entirely based on the needs of the economy, we can control our own borders in a way that is not discriminatory but fair and balanced, and take the wind out of the sails of extremists and those who play politics with immigration," Johnson said.