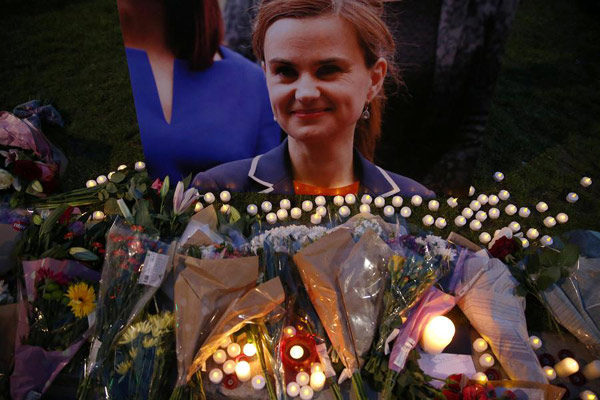 Tributes for Labour Party MP Jo Cox, who was shot dead in the street in northern England, are displayed on Parliament Square in London, Britain, June 16, 2016. [Photo/Agencies]
"We've lost a wonderful woman, we've lost a wonderful member of parliament, but our democracy will go on," Labour leader Jeremy Corbyn said in a televised statement. "As we mourn her memory, we'll work in her memory to achieve that better world she spent her life trying to achieve."
Labour lawmaker Sarah Champion said: "She's a tiny woman, five feet nothing and a lion as well - she fights so hard for the things she believes in. I cannot believe anyone would do this to her."
Police said a 77-year-old man was also assaulted in the incident and suffered injuries that were not life-threatening.
BBC TV and other media showed a picture of the alleged suspect, a balding white man, being apprehended by police. Temporary Chief Constable Collins said a "very significant investigation with large numbers of witnesses" was under way.
"We are not looking for anyone else in connection with this incident," she said.
The last attack on a British legislator was in 2010, when Labour member and ex-cabinet minister Stephen Timms was stabbed in the stomach at his office in east London by a 21-year-old student who was angry over his backing for the 2003 Iraq war.
In 2000, a Liberal Democrat local councillor was murdered by a man with a samurai sword at the offices in western England of lawmaker Nigel Jones, who was also seriously hurt in the attack.