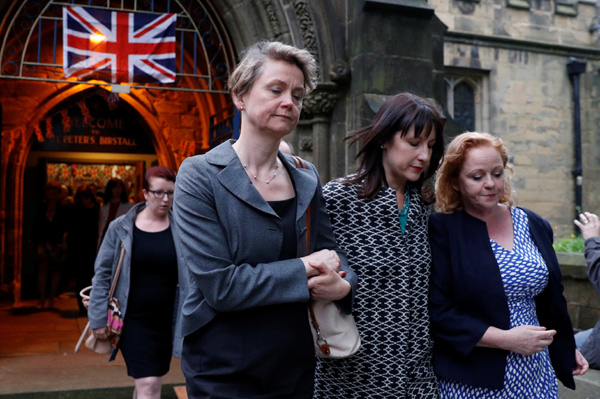 Labour MP Yvette Cooper (L) leaves St Peter's Church after a vigil in memory of Jo Cox, a lawmaker for Britain's opposition Labour Party, in Birstall near Leeds, June 16, 2016.   [Photo/Agencies]
'HORRIFIC MURDER'
Media reports, citing witnesses, said the attacker had shouted out "Britain first", which is the name of a right-wing nationalist group that describes itself on its website as "a patriotic political party and street defence organisation".
But the deputy leader of the group, Jayda Fransen, completely distanced it from the attack, which she described as "absolutely disgusting".
West Yorkshire's elected Police and Crime Commissioner said "our information is that this is a localised incident, albeit one that has a much wider impact".
Gun ownership is highly restricted in Britain, and attacks of any nature on public figures are rare. The last British lawmaker to have been killed in an attack was Ian Gow, who died after a bomb planted by the Irish Republican Army (IRA) exploded under his car at his home in southern England in 1990.
Britain's Union Jack flag was flying at half-mast over the Houses of Parliament in London, while in Birstall hundreds of people attended a vigil at a local church.
Colleagues expressed their shock and disbelief at the death of Cox, a Cambridge University graduate who had spent a decade working for aid agency Oxfam in roles including head of humanitarian campaigning and was known for her work on women's issues.
She won election to parliament for northern England's Batley and Spen district at the 2015 general election, and lived with her husband and children on a traditional Dutch barge moored on the Thames near the Tower of London.