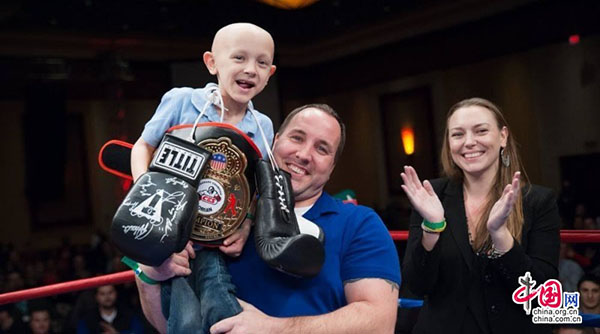 Dorian Murray and his parents are seen during a boxing game in this undated file photo. [Photo/china.org.cn]
Dorian told his father he wanted to be famous before going to heaven. The conversation between the two was posted on Facebook and was forwarded and commented on by thousands of Internet users, including many from China.
Some sent photos of the Great Wall, while others left messages on the post, saying "wish you recover soon" and "people in China are delighted to make your dream come true".
The post was also translated into Chinese and was further spread on China's social networking platforms like Weibo, a micro blog website. More people are moved by the boy's story and want to help him realize the dream.
A Chinese Internet user surnamed Zhang Heng even made a souvenir badge for Dorian. In it, he is on the Great Wall.