This holiday season was a little hectic for me as I was hosting three family friends from China. Entrepreneurs, scholars and physicians, no matter what the parents do for a living, they share something in common: They've sent their teenagers to boarding schools in the US.
It seems to be a decision that both the parents and children could not be happier about. Emily Chen, a 17-year-old who is a senior at the Grier School in central Pennsylvania, said she has benefited much from her three years boarding away.
"I used to hate schools and homework in China," said Emily, who added that she didn't get as much attention from teachers because she struggled in class. "But here at Grier I have all these fond memories about learning and motivation."
Although China in recent years started gradually transforming its education system, its framework and foundational concepts are chronically criticized - they are narrowly focused on students' academic performance instead of wholesome character-building and leadership development.
"I still can't forget the nightmare-like years when we had to shuffle Emily back and forth between school and afterschool training institutions," said Hong Chen, her dad. "My wife kept pushing Emily to study harder and would lose her temper" at her progress. "None of us was happy," Hong Chen said.
When Emily decided to go to the US to start middle school and finally enrolled in Grier in 2013, the entire family breathed a long sigh of relief.
Different teaching methods, different learning approaches and expectations from the school have prompted Emily to be independent and self-advocating.
"My experiences at the school lead me to take leaps of faith in myself and encourage me to believe I could make great things happen," Emily said.
The Chen family story is not exceptional. According to the Department of Homeland Security (DHS), the number of Chinese K-12 students soared to 34,578 this year and accounts for almost half of foreign students attending American high schools and primary schools. The youngest, as indicated in records, is only 10.
In 2010, there were 8,857 Chinese students attending US K-12 schools, according to data collected by the Student Exchange and Visitor Program (SEVP).
Eva Liu, a marketing professional in Silicon Valley, along with several of her entrepreneurial friends, designed a website and app that help Chinese parents locate the best public and private K-12 schools in the United States.
"We feel that sending young children to American boarding schools will continue," said Liu. "The increase shows no sign of abating in the near future."
After regularly answering inquiries from China about good schools, homes located in good school districts, and other resources in the US, Liu launched her website and app, which focus on high-quality K-12 school systems and services.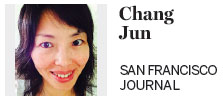 "They are gaining popularity among parents of interest," said Liu. "Chinese parents understand what values the American education will generate, and they are getting it."
For example, some Chinese families will buy houses in upscale towns with strong public schools.
"Our website collects all this information for Chinese families," said Liu, adding that her clients are mostly affluent Chinese with only one child.
At Grier, Chen and other Chinese students make up almost half of the school population. The school administration set up a publicity office in China several years ago to welcome Chinese students in order to offset declining domestic enrollment and funding.
"Fifty thousand a year including tuition and boarding fees is not a small number," Emily said. "I understand my parents pin high hopes on me."
Emily completed her college applications, including several for prestigious Ivy League schools, before Christmas.
Contact the writer at junechang@chinadailyusa.com