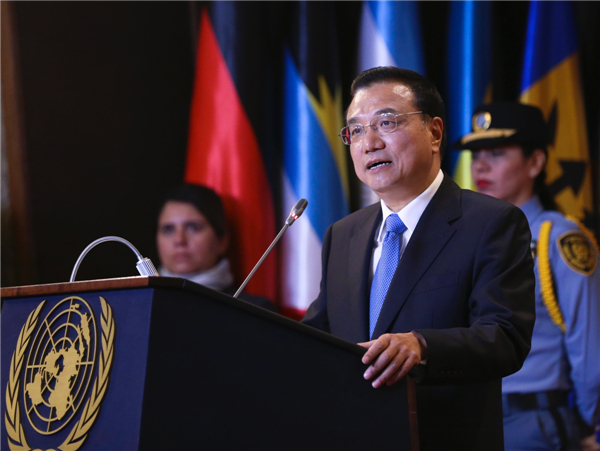 Chinese Premier Li Keqiang addresses the Santiago-based Economic Commission for Latin America and the Caribbean (ECLAC) in Santiago, Chile, May 25, 2015. [Photo provided to chinadaily.com.cn]
"THREE TIMES THREE" NEW COOPERATION MODEL
Li said that China and Latin America should consolidate political mutual trust amid reaffirmed traditional friendship, vowing to have more frequent high-level exchanges with the region.
The premier called for the upgrading of economic and trade cooperation between China and Latin America, and reiterated his proposal of the new mode of production capacity cooperation dubbed "three times three."
Li proposed the joint construction of three passages for logistics, electric power and information so as to achieve interconnection on the South American continent.
He said the new mode of China-Latin America production capacity cooperation should follow the rules of the market economy, in a bid to achieve sound interaction among the three entities of private sector, society and the government.
Li called on the two sides to facilitate the construction of their cooperative projects by expanding three financing channels, namely funding, credit loans and insurance.
Li also stressed the importance of people-to-people exchange, one of the indispensable pillars supporting the cooperation between China and Latin America.
He urged the two sides to enhance youth exchanges and promised that China will increase the number of its university scholarships for Spanish and Portuguese speaking countries.
Li said that China is willing to continue to enhance dialogue and cooperation with regional organizations in Latin America to push forward its overall cooperation with the area.
Meeting with Barcena, Li said that China is willing to expand cooperation with ECLAC in areas including production capacity, equipment manufacturing, infrastructure construction and finance to achieve mutual benefits and a win-win situation.
On her part, Barcena said that she expects that the practical cooperation between Latin America and China could go beyond general trade in the future and develop in areas including two-way investment and financial cooperation.
China is the second largest trade partner of Latin America. In 2014, two-way trade between them hit 263.6 billion U.S. dollars, a 20-fold increase from the total value in 2000. China's investment in the region also surged to more than 80 billion dollars last year.
Li's visit came four months after the first ministerial meeting of the Forum of China and the Community of Latin American and Caribbean States in Beijing, where China and Latin American countries agreed to increase their trade to 500 billion dollars by 2025. China also pledged to bring its accumulative investment in the region to 250 billion dollars by then.
Chile is the last leg of Li's four-nation tour to Latin America, which has already taken him to Brazil, Colombia and Peru.