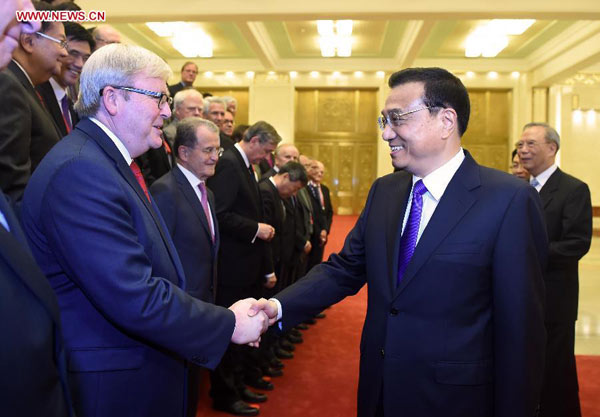 Premier Li Keqiang (R, front) shakes hands with overseas representatives who come to Beijing to attend the 4th Global Think Tank Summit, in Beijing, capital of China, June 26, 2015. [Photo/Xinhua]
BRUSSELS -- Chinese Premier Li Keqiang's upcoming visit to Brussels and attendance at the China-EU leaders' meeting are expected to strengthen ties between China and the European Union (EU).
From June 28 to July 2, Li will first visit Belgium and attend the 17th China-EU leaders' meeting in Brussels, the first since the change of the EU leadership, and then he will pay an official visit to France and visit the headquarters of the Organization of Economic Cooperation and Development in Paris, as well as Marseille and Toulouse.
"This visit will realize a new leap forward in the development of China-EU relations and will benefit the two peoples," Chinese Vice Commerce Minister Wang Shouwen said ahead of Li's visit.
In Brussels, Li is scheduled to discuss China-EU cooperation and international and regional issues with President of the European Council Donald Tusk, President of the European Commission Jean-Claude Juncker and President of the European Parliament Martin Schulz.
He will also address the opening ceremony of a China-EU business summit and attend a forum on the China-EU urbanization partnership.
Days before his Europe visit, Li told Belgium's King Philippe in Beijing that China supports the European integration process and is pleased to see a prosperous Europe, a united European Union and a strong euro.
During Li's visit, China and the EU will issue a document to outline their future cooperation priorities and a statement on climate change, and sign several cooperation deals on regional policies, intellectual property rights protection, customs and technological innovation, according to the Chinese Foreign Ministry.
The EU has been China's largest trading partner for 11 years while China has been the EU's second largest trading partner for 12 years. Bilateral trade volume exceeded 600 billion U.S. dollars in 2014.
Shada Islam, director of policy at Friends of Europe, a non-profit think tank, told Xinhua that there is possible synergy between the EU and China on building digital economy and cooperating in the EU-China connectivity, which would provide opportunities for both sides to work together for the "Belt and Road" initiative.
Proposed by Chinese President Xi Jinping in 2013, the Silk Road Economic Belt and the 21st-Century Maritime Silk Road, which are later dubbed as the "Belt and Road" initiative, is aimed at reviving the ancient trade route between Asia and Europe.
"China and the EU are mutually reinforcing global partners and not mutually excluding competitors," said Ambassador Yang Yanyi, head of the Chinese Mission to the EU, citing that bilateral trade increased from $2.4 billion in 1975 to $615 billion in 2014.
China also attaches importance to developing ties with Belgium, where the EU is headquartered.
Chinese Foreign Ministry said China and Belgium will sign cooperation deals on finance, telecommunication, technology and education after the talks between Li and Belgian Prime Minister Charles Michel. This will be the first meeting between the two heads of government since the new Belgian government took office in last October.
In his meeting with King Philippe in Beijing days ago, Li proposed to combine China's comparative advantages in industrial capacity and equipment manufacturing with Belgium's advanced technology, and called on the two sides to jointly explore third-party markets.