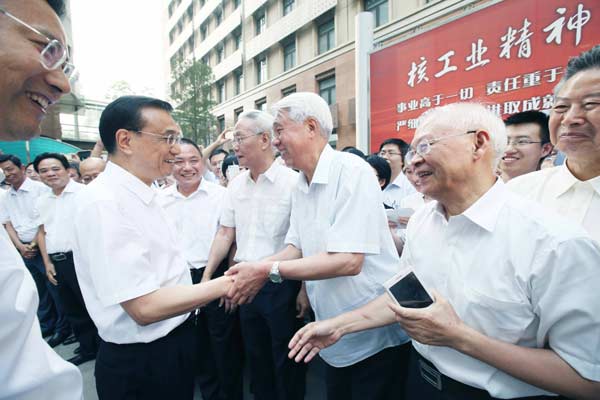 Chinese Premier Li Keqiang, left, visits China Nuclear Power Engineering Co., Ltd in Beijing, June 15, 2015. [Photo/Xinhua]
BEIJING -- Chinese Premier Li Keqiang called for efforts to improve the manufacturing industry in order to ensure medium-high level economic growth on Monday.
China's manufacturing has contributed to the country's growing comprehensive national strength, but it is still at a middle and low level in terms of international division of labor, Premier Li said during an inspection to the Ministry of Industry and Information Technology.
China must improve its manufacturing of high-tech equipment as well as ordinary consumer goods, Li said.
The State Council, China's cabinet, unveiled the ten-year national plan "Made in China 2025" on May 19, designed to transform China from a manufacturing giant into a world manufacturing power.
On the same day, the Premier also visited China Nuclear Power Engineering Co., Ltd. and praised its Hualong One Technology, a domestically-developed third generation reactor design.
China needs to develop forms of green energy such as nuclear energy, Li said. He urged the company to always put safety first.