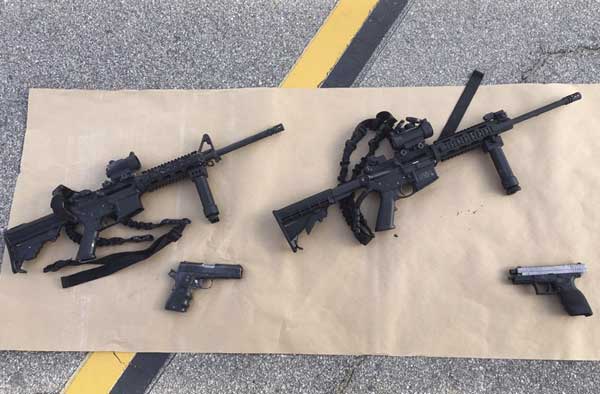 Weapons confiscated from last Wednesday's attack in San Bernardino, California are shown in this San Bernardino County Sheriff Department handout photo from their Twitter account released to Reuters December 3, 2015. [Photo/Agencies]
But no information has yet emerged suggesting any ties or contacts between Farook and the Islamic State or other specific militant groups, the source said.
Officials from President Barack Obama to Police Chief Burguan said the attack may have been motivated by extremist ideology but that questions of motive remained unanswered.
"It is possible that this was terrorist-related. But we don't know," Obama told reporters. "It is also possible that this was workplace-related."
Farook, a US citizen, was born in Illinois, the son of Pakistani immigrants, according to Hussam Ayloush, who heads the Los Angeles area chapter of the Muslim advocacy group Council on American-Islamic Relations (CAIR). Malik was born in Pakistan and lived in Saudi Arabia until they married, Ayloush said.
David Bowdich, FBI assistant director in Los Angeles, said Malik was admitted to the United State on a K-1 "fiancee visa" and was traveling on a Pakistani passport.
The couple entered the United States in July 2014 after a trip that included Pakistan, Bowdich said. Farook also visited Saudi Arabia for nine days in the summer of 2014, the kingdom's embassy in Washington said.
The director of the Islamic Center of Riverside, a mosque Farook attended regularly for two years until 2014, described him as a devout Muslim who made the pilgrimage to Mecca in Saudi Arabia a few years ago and celebrated his wedding reception at the mosque.
"His degree of faith is very high," the director, Mustafa Kuko, told Reuters. "He was a very quiet person, peaceful, never had an argument with anyone or a dispute."