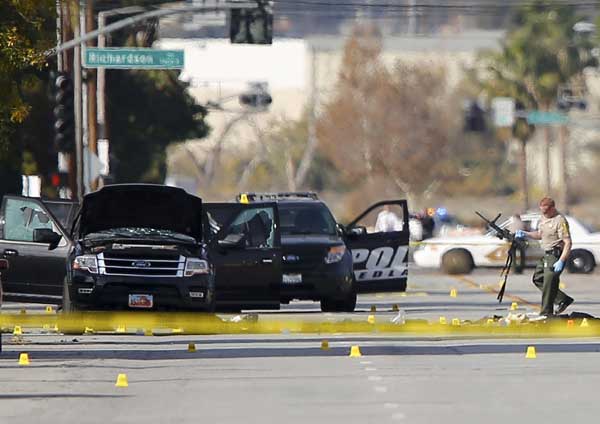 A police officer picks up a weapon from the scene of the investigation around the area of the SUV vehicle where two suspects were shot by police following a mass shooting in San Bernardino, California December 3, 2015. [Photo/Agencies]
SAN BERNARDINO - The couple suspected of killing 14 people at a holiday party in California amassed thousands of rounds of ammunition and a dozen pipe bombs, authorities said on Thursday as they sought clues to the pair's motives and whether they had links to Islamist militants.
Syed Rizwan Farook, 28, and Tashfeen Malik, 27, his wife and mother of his 6-month-old daughter, were killed in a shootout with police five hours after Wednesday's massacre at the Inland Regional Center social services agency in the city of San Bernardino.
Twenty-one people were wounded in the shooting, which ranks as the deadliest instance of US gun violence in three years.
As the FBI-led investigation pressed on, local authorities completed formally notifying the families of the 14 people who died and released their names to the public.
The victims, all from Southern California, ranged in age from 26 to 60, and most were men, according to a county coroner statement.
San Bernardino Police Chief Jarrod Burguan said at a Thursday news conference that the search of a townhouse leased by the shooting suspects in the nearby community of Redlands turned up flash drives, computers and cellphones.
Officials in Washington familiar with the investigation said so far there was no hard evidence of a direct connection between the couple and any militant group abroad, but the electronics would be checked to see if the suspects had been browsing on jihadist websites or social media.
One US government source said the FBI was examining information indicating that Farook was in contact with individuals who had themselves been under FBI investigation, some from cases already closed. The source also said it was possible that one or more of the Farook contacts under scrutiny were located overseas.