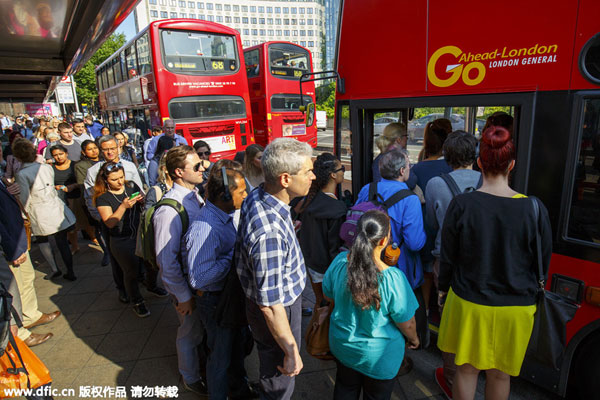 Commuters queue for buses outside Waterloo Station as tube strike shuts down the entire London Underground network on Thursday, July 9, 2015.[Photo/IC]
LONDON -- Millions of London commuters and visitors have to find other modes of transportation instead of taking the London Underground on Thursday due to the ongoing Tube strike.
Londoners were seen standing in long line-ups at bus stations and cycle hubs in the capital on Thursday morning, as all Underground stations were shut down in a strike which has been described by local media as the "biggest strike on the London Underground for 13 years."
Some people chose to walk a long way to work.
Statistics showed that the London Underground handles up to four million journeys everyday, and more than 535 trains are running under the city at peak times.
The strike started at 6:00 pm local time (1700 GMT) on Wednesday. This issue is that London Underground and union leaders failed to make an agreement over pay increase when a 24-hour night Tube service is launched in September.
About 20,000 employees working for the Underground system are taking part in the strike, while Underground services are halted until Friday morning.
Fortunately, London Overground, DLR (Docklands Light Railway), Transport for London (TfL) Rail and tram services are unaffected, but they are much busier than usual.