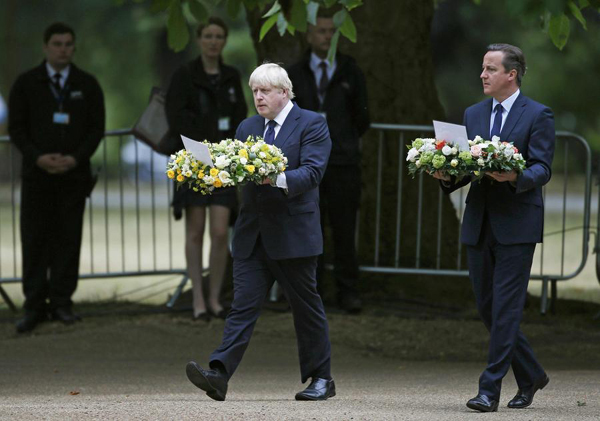 London Mayor Boris Johnson (L) and Britain's Prime Minister David Cameron carry wreaths to lay at the memorial to victims of the July 7, 2005 London bombings, in Hyde Park, central London, Britain July 7, 2015. [Photo/Agencies]
LONDON - Britain on Tuesday held a variety of events to mark the 10th anniversary of the 2005 London bombings which killed more than 50 people.
British Prime Minister David Cameron and London Mayor Boris Johnson laid wreaths in Hyde Park in memory of the victims who lost their lives in the attacks.
Prince William, officially known as the Duke of Cambridge, also joined families and survivors of the bombings at the Hyde Park Memorial.
Survivors, families of the victims and members of London's emergency services also attended a service held at the St Paul's Cathedral.
The service included four reflections, read by members of the Metropolitan Police, London Ambulance Service, Transport for London (TfL) and the London Fire Brigade, each focusing on one of the four bombing sites: Russell Square and King's Cross, Aldgate, Edgware Road and Tavistock Square.
In a statement, Cameron described the attacks as "one of the deadliest terrorist atrocities on mainland Britain."
"Ten years on from the 7/7 London attacks, the threat from terrorism continues to be as real as it is deadly - the murder of 30 innocent Britons whilst holidaying in Tunisia is a brutal reminder of that fact. But we will never be cowed by terrorism," he said.