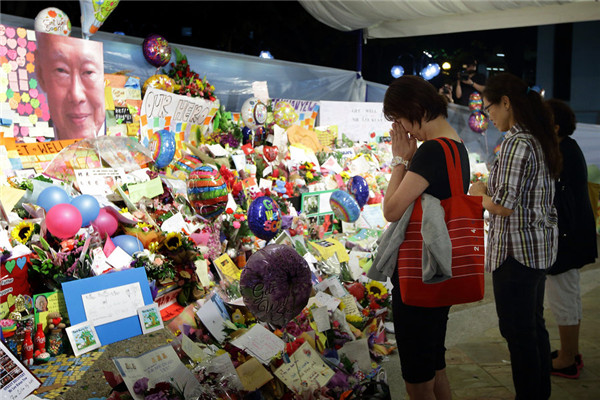 People mourn the passing of former Singaporean prime minister Lee Kuan Yew at a well-wishing corner at the Singapore General Hospital in Singapore, March 23, 2015. Lee, Singapore's first prime minister and architect of the Southeast Asian city-state's rapid rise to global trade and financial center, died early on Monday, aged 91, the Prime Minister's Office said. [Photo/CFP]
SINGAPORE - Singapore had declared a period of national mourning for former Prime Minister Lee Kuan Yew from Monday to Sunday, the Prime Minister's Office said Monday.
The announcement was made by Prime Minister Lee Hsien Loong, who will address the nation "live" at 8 am local time Monday.
Lee Kuan Yew, who had been struggling with severe pneumonia in hospital since Feb 5, passed away Monday morning
As a mark of respect to the late founding prime minister, the state flags on all government buildings will be flown at half-mast from Monday to Sunday.